Cast the first stone if you've never been working on a Word document for days and suddenly your computer shuts down, Word itself closes, or everything crashes before you can save the document.
For a moment, you might think that all is lost, but at Bot, specialists in data recovery, we have some tips that could solve your problem.
Word itself automatically saves a copy of documents using a number of features, ensuring that files are not completely lost when something unexpected happens. Below are some examples of unexpected events that could happen to you:
power failure;
unexpected error;
unexpected restart;
among others.
These Word resources help users recover documents that have not been saved at any time, or that have been corrupted. But the good news is that most Word document recovery options are carried out in Word itself or with functions available in Windows.
There is also the possibility of using specific programs to recover documents that have been accidentally deleted or deleted by malware. For this reason, we've put together 7 Word document recovery tips so that you can choose the best one for your needs.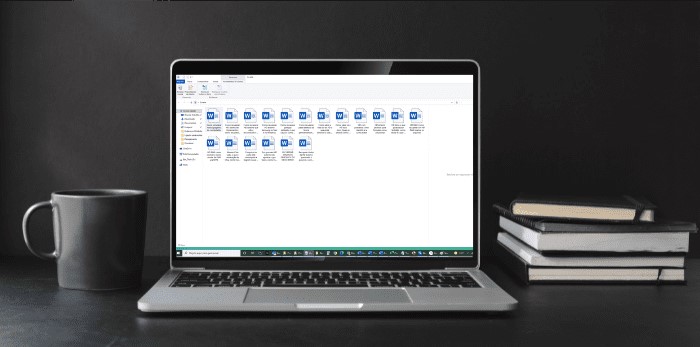 1. How do I recover an unsaved Word document?
Step 1: open Microsoft Word and click on "Blank document".
Step 2: on the left, in the top bar, click on the "File" option.
Step 3: as soon as the left sidebar opens, click on "Open".
Step 4: on the "Documents" screen, click on the "Recover Unsaved Documents" option at the bottom of the screen.
Step 5: find the file you'd like to access again, select it and click "Open".
Step 6: That's it! The file will open and you can access it again. But beware: the file will be in .asd format, which is different from the standard Word format. Save the file again in the correct format to solve the problem.
Extra tips: go back to "File", click on "Save" in the left-hand sidebar and give the document a different name. Be sure to remember where the file will be saved. Finally, enable the "Save Automatically" option in the top left-hand corner of Word. This will prevent this problem from happening again.
2. Use recycle bin to recover files
This recovery method is one of the simplest and best known to users. If you're lucky, your file will be intact in your computer's recycle bin. The method to recover it is as follows:
Step 1: open your computer's recycle bin.
Step 2: check to see if your file is still there. If you don't know the name of the document, search for files such as DOC, DOT or DOCX.
Step 3: select the Word document you want to recycle and click on "Restore" to recover it.
Job done! The Word document is back in its previous directory. Remember to memorize the name of the file before restoring it so you can search for it in your computer's directories if you don't know which directory it was in before.
3. How to recover a deleted document using Word Backup
Word backup file names have the extension .wbk. So if you have the "backup copy" option selected in Word, there may be a backup copy of your file. To check:
Step 1: select "Start", click on the "Search" box, type ".wbk" and press enter.
Step 2: find files with the name "Backup of" followed by the name of the missing document, double-click on the file name to open it. That's it! You've found it!
Extra tip: to activate this backup tool in your Word, simply: open Word, select "File", in the bottom corner select "Options", then "Advanced", move down to the Save section and then select "Always create backup".
4. How do I recover a Word document using the AutoRecover tool?
Word has an AutoRecover tool, and using it is simple, check it out:
Step 1: open Word and click on "File", then click on "Options", which is located in the bottom left-hand corner of the screen.
Step 2: select the "Save" option and, in the "Save documents" section, locate "AutoRecover File Location".
Step 3: copy the domain shown in the "AutoRecovery File Location" box.
Step 4: open "File Explorer" and paste the domain into the address field. You will see a list of documents with an .asd extension.
Step 5: locate the appropriate Word document with the most recent date/time and copy the file.
Step 6: open Word, navigate to "File" > "Open" > "Restore Unsaved Documents", paste the ASD file and click "Open".
Step 7: now just select "File", then "Save As" and save the Word document anywhere you want.
5. How do I recover a Word document using temporary files?
Another option for trying to recover your Word document is from Word's temporary files. The program automatically creates temporary files when a document is closed without saving in Word. They are saved as ".tmp" or "~". Here's how to find them:
Step 1: go to "File Explorer", select "This computer".
Step 2: type ".tmp" or "~" in the "Search" bar and check the file's modification date to find the unsaved document.
Step 3: find the document you want, right-click on it, select "Open with" and select "Notepad". Temporary files can only be opened with this program.
Step 4: now just copy the content displayed in "Notepad" and paste it into a new Word document.
6. How do I recover a deleted Word document using recovery software?
In some cases, the above steps won't solve the problem and you'll need to use recovery software. For example, in cases where documents have been accidentally deleted from the computer's directory and recycle bin.
One of those software programs you can use to try to recover your file is Wondershare Recoverit. It allows you to find deleted documents and view content up to 30 MB free of charge.
However, in order to restore the file as a Word document on your computer, you need to subscribe to the software.
To find out more about the software, click here.
7. How do I recover a deleted Word document if nothing worked?
If none of the above has worked for you, don't worry. This last tip is infallible: seek help from our team.
We, at Bot, receive the device where your lost files were located. Then, we identify the problem and the best procedure for recovering accidentally deleted or lost files.
We act efficiently and assertively, from the analysis to the delivery of the documents. Our recovery is done quickly, because we take our commitment to the deadline very seriously.
Furthermore, our entire process is carried out safely and in compliance with international certifications.
We also offer a free quote and free collection from any address in Portugal!
Solicite o seu orçamento aqui.
Finally, we hope that no matter which way you choose to recover your Word document, you will succeed and be able to access your file again.
Be sure to contact us for help from a qualified team. We'll be happy to help you!