A hard disk is a piece of hardware used to store data and digital content on computers. Every computer has its own internal hard disk, but you can use external disks to extend your computer's storage.
Usually, people don't feel safe leaving their most important data and files on their computer alone. That's why they prefer to store them on more secure hardware, such as an external disk.
Disks can sometimes have problems, making it impossible for the computer to find them. This can be caused by various factors such as loose cables, poor contact or even a faulty motherboard. If your disk is not showing up on your computer, read this article to find out some possible causes and how to solve them.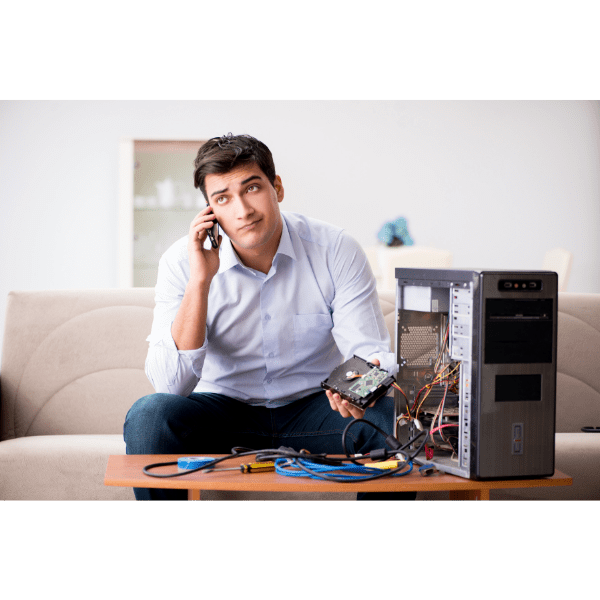 Why my disk is not showing up on my computer?
As we said in the introduction, the causes of your disk not appearing on your computer can be diverse. That's why we're going to mention some of them for Windows and MacOS systems. Check them out below:
Windows:
One of the most common problems that causes your disk not to appear on your computer is that the drive is not formatted. If this is the case, it's easy to solve. However, there are other possible causes, such as:
The hard disk is not formatted correctly;
The hard disk does not have a defined partition letter;
The external hard disk has a hardware problem;
The USB cable connected to the computer is faulty or in bad contact;
The USB input fails and does not detect the disk you are trying to connect;
The current hard disk driver is out of date or corrupt.
MacOS:
It can be very frustrating when your Mac doesn't recognize the disk. Here are some of the possible causes:
Natural wear and tear of the part;
Incorrect conditions of use;
Damaged USB port;
Partition problems;
Corrupted or outdated driver.
Don't know if your case fits the options mentioned above for both Windows and MacOS? Here are some tips you can try to solve the problem:
Check that the disk is enabled in the BIOS
If the disk is disabled, the system will be impeded from accessing it. This can happen depending on the type of BIOS your computer uses. Although there are many different interfaces in different BIOSes, they generally share the same organization of resources.
So try this step by step:
Find the entries referring to disks in the "Devices" or "Storage" menus;
Then check that the IDE/SATA drives are marked as active. Attention! The term "enabled" means that they are activated;
If you see "disabled", it means that the disk is deactivated. Change the option to "enabled".
Exit the BIOS to confirm your changes and run the test again.
Incorrectly connected cables
As we mentioned above, incorrectly connected cables are a very common cause of your drive not being recognized by your computer. In SATA drives, these connector cables are divided into two, a data cable and a power cable.
The first step you should take is to check that they are correctly plugged into the card and the hard disk before testing again. If the error persists, test other pairs of connectors and connect the disk to another SATA port.
Defective hard disk
Have you tried reactivating the disk in the BIOS? Have you made sure that the cables work and are properly connected? Well, if the problem still persists and the disk doesn't come to life in the computer, there's a possibility that the internal circuits are damaged.
Test the disk in another computer or look for a SATA to USB adapter to see if the system detects it as an external hard disk. If the disk works as an external device, perhaps the problem is directly related to the machine's BIOS or motherboard. Try restoring the BIOS to factory settings or try updating to the latest version available.
On older systems
Is your computer using an older Windows operating system? If so, it may be that your disk doesn't appear on the computer because there are no SATA drivers installed on the machine.
Therefore, you need access to recovery devices that can promote these installations on the disk drive where the operating system is installed. But keep in mind that if it's the same one you're trying to load, the problems could be related to damage to the hard disk.
Try loading with Linux
If the previous solutions haven't solved your problem, you can load Linux onto a USB stick in your computer to help you isolate the error and, from the free system interface, check if the hard disk is found.
If the result is positive, the chances are that the problem is concentrated in Windows alone. To fix it, simply find the recovery drives for your computer's operating system and use the restore tool to try and restore the system to working order.
How do I recover a disk that doesn't show up on my PC?
If nothing we have suggested has worked, there is a good chance that your disk is defective in the logic board that controls the operation of the device. However, if this really is the problem, we have good news: it's probable that your files are intact on the disk and we at Bot can recover them!
We work with a team that specializes in recovering disks, SSDs, smartphones, memory cards, USB sticks, RAID servers and NAS. Our procedure is done in a totally secure environment and respects international certifications.
Our process is very simple: we receive your disk and carry out an assessment to identify the problem and the best way to recover your files. Since one of our biggest commitments is to the deadline, our procedure is quick and efficient so that you don't have any headaches.
In addition, we offer a free quote and free collection of your disk by express delivery from any address in Portugal. If you want to find out more about our solutions and learn more about our processes, just click here and we'll be happy to help!
But if you would like a free quote now, click here.
We hope our blog has helped you, and don't forget: backup is the best prevention of data loss.