You don't want to lose the files, photos, work and other important data that you store on your external disk, do you? However, when you have an external disk asking to be formatted, all this data could be at risk…
If Windows suggests formatting the hard disk, there is a problem. Bad sectors prevent the operating system from accessing the files – and so you won't be able to either. So what should you do?
Below, we will explain why this happens and what you can do to recover your external disk and all the data it contains.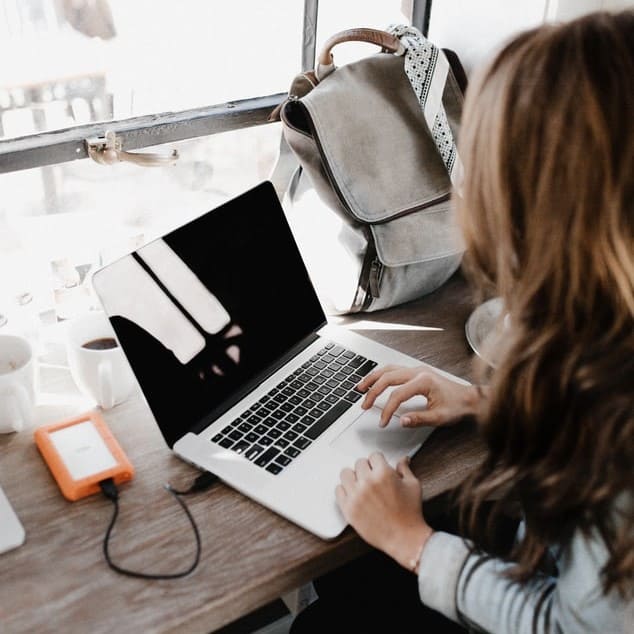 What are the symptoms of a corrupted external disk?
An external disk that needs to be formatted has a problem. And that problem has some symptoms that you may notice when trying to access the data on the hard disk.
Often, the computer doesn't even recognize the external drive once it is connected. Or maybe it does, but the disk appears with 0 bytes stored, which is also a sign of a problem. We have a whole page on dealing with external disk problems.
It is also common to try to access the files and folders on the disk and for the computer to take a long time to open them. Often, during this process, the system may crash or even blue screen. You may also hear some noises, which show that the disk components are defective or malfunctioning.
In addition, Windows may display some warning messages, such as:
"Format the disk in drive F: before using it. Do you want to format?"
"F: is not accessible. The file or folder is corrupted and unreadable."
When you see these messages, it means that you won't be able to access the stored files until you fix the problem with the disk.
External disk asking to be formatted: what to do?
An external disk asking to be formatted requires care. However, receiving this message from Windows doesn't mean that you have lost all your data or that your device is beyond repair, okay? There are a few procedures you can try to repair the disk.
Formatting the disk, which Windows itself suggests, is one of the solutions. However, you need to know that formatting a disk means wiping the entire storage drive, including the errors identified, to allow it to be reused. However, this erases all the data stored on it.
So don't rush into formatting the external disk – it's important to try other alternative solutions that avoid data loss. Even so, if formatting is necessary, make sure that the data is saved on another storage drive before doing the procedure. We'll show you how to do this later.
How to fix external disk errors without formatting?
Below, we will look at the main ways to repair an external disk that is asking to be formatted. You can try a few options to save your device before you need to format it.
But it is important to know that these procedures require caution, as any mistake could make it impossible to recover the data and the device itself. So if you want more security and a better chance of recovering your data, contact a specialized company like Bot.
Now, follow the step-by-step tips to try to recover your external disk asking to be formatted:
1. Check your computer, ports and USB cable
First, you need to check if there is any problem other than the external disk. Often, Windows can't recognize the disk or read the data because there's a problem with the operating system itself, the USB port or the connection cable.
So try these options:
Connect the external disk to another computer or laptop;
Connect the external disk to another USB port;
Use another cable to connect to the computer.
If any of these options allows you to access the external disk again, it means that the hard disk and the files are not corrupted. That's good!
But you still need to fix the problem that prevented you from accessing the data, such as buying a new cable or repairing the input port. In some cases, excessive dust stops Windows from accessing the data on the removable device – so get it sanitized.
2.Update the device drivers
If the external disk works on another computer, you may need to update or reinstall the drivers on the device that had problems.
Windows Update tries to keep drivers, including USB ports and disk drives, up to date at all times, but installation errors can occur. Then the user can manually update, remove and install the drivers. To do this:
In the Windows search bar, look for Device Manager;
Locate "USB Drivers" (to check the USB inputs) and "Disk Drives" (to check the external disk drive);
Right-click on the desired device and then on "Update driver";
Select the option "Automatically search for updated driver software".
Windows will then check for any pending updates that may correct the problems it has encountered.
3. Run the antivirus to scan your hard disk
One problem that often corrupts folders and files on storage drives is infection by viruses. They can damage data and the file system and prevent the user from accessing the drive.
Therefore, another option before formatting the external drive is to run a reliable antivirus program, such as Norton, Avast or Kaspersky. Depending on the problem, the software itself can scan and repair the infected device.
4. Run the Windows Error Check
If the above options haven't solved the external disk problem, you can try Windows Error Check. This tool checks and tries to repair problems with the storage drive. To use it, connect the external disk to the computer and follow the steps:
Open Windows File Explorer and identify the external disk;
Right-click and open Properties;
Click on the Tools > Error Checking tab;
Click Scan > Scan and repair the drive.
5. Use ChkDsk in the Command Prompt
If the above tool doesn't work, you can also try using the ChkDsk command (Check Disk). Like Error Check, ChkDsk also scans the disk for errors in order to fix them, but it does a more detailed analysis.
To use this command, do the following:
Open the Windows Command Prompt (type "cmd" in the Windows search bar or press "Win + R" and type "cmd");
On the black screen, type "chkdsk /r /f DiskDriveLetter:" and hit Enter. Use without the quotes and replace with the drive letter (for example: chkdsk /r /f d:).
To use this command, you probably need to run the Command Prompt as an Administrator.
How to format an external disk with an error?
If the steps above don't fix the problem with your external disk, you will need to format the disk. But don't rush! First, you need to rescue the data so that formatting doesn't take all your files.
Here are our guidelines:
1. Recover data from an unformatted hard disk
Before formatting your external disk, it is important to save your files on another drive, such as an external disk or cloud storage.
But of course, if Windows warns you that the disk is unreadable, you won't be able to access them as usual. For this reason, you can turn to data recovery software or a specialized company like Bot, which can do the whole job for you, from diagnostics to data and device recovery.
Some reliable programs you can use are Recoverit, EaseUS and Recuva. These tools scan the disk for bad sectors and data that can be restored. If the procedure is successful, you can view your files again and save them elsewhere to continue formatting.
2. Format the external hard disk
Finally, it is time to format the external disk. Before you follow the steps, make sure you know what you are doing, because this procedure deletes everything stored on the disk, including files, system data and errors that are affecting its operation.
But it is formatting that will allow you to use the external disk again without any problems. To do this, you need to follow these steps:
Open Windows File Explorer and identify the external disk;
Right-click and select "Format…";
In the File System options, select NTFS if you only want to use the external disk in Windows, or exFAT if you also want to use it in MacOS or Linux;
Click on Start.
With these commands, Windows will format the disk so that you can reuse it. Then, when the external disk is recovered, you can save the files again.
Conclusion
In short, these are our tips for recovering files from your external disk and making your device useful again. If you have an external drive that needs formatting, you can do these procedures on your own, but be aware that the help of a specialized company greatly increases the chances of success.
Furthermore, data recovery programs can't repair every type of problem and they don't always perform well. If the disk has a mechanical fault, for example, you need to do a physical intervention on the device. And this should never be done at home.
A specialized company like Bot has the right equipment and professionals for the job, as well as completely sanitized environments that avoid any dirt. More than a decade of experience in the market, with a 95% success rate.
Now, if you also want Bot's help, get in touch with us. You can fill in the form and start recovering your external disk right now!