Nowadays, it is impossible to live without them: external storage devices, USB flash drives, memory cards and external disks. The fact is that connected, we generate two and a half quintillion bytes every day! Photos, videos, documents of various kinds, files that, when we no longer want them, we delete and put in the recycling bin. So that they disappear forever. But are they extinct?
Is it possible to recover deleted files from an external disk?
We all know it, or have even experienced it! Data saved on an external disk can be erased due to certain improper operations, such as accidental deletion, and files can also be erased due to a number of factors, such as logical problems or even problems with the external device's hardware.
The main causes being: the presence of a virus/malware that corrupts the files, the disk partition can be corrupted or damaged and the files lost, a power cut while your disk is working, formatting the disk unintentionally, or even a fall that causes physical damage to your device.
But after all that, the question still remains. Is there any way to recover deleted files from an external disk?
The answer is yes, in the vast majority of cases!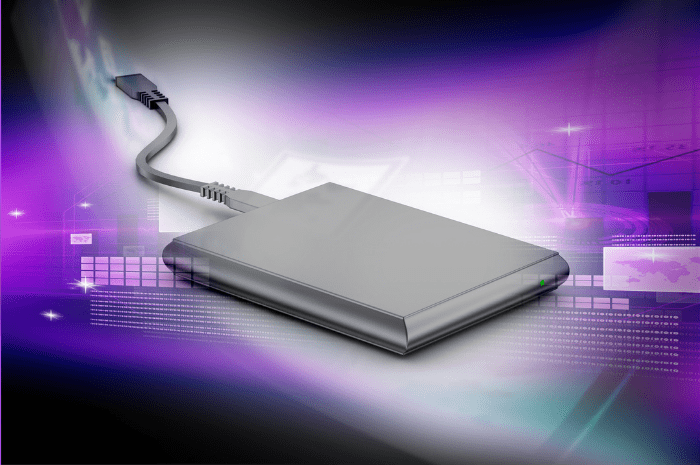 Most common solutions for recovering deleted files from an external disk
Data recovery tools are a solution you can use to recover deleted files in simpler situations, such as manually deleting data. These are some of the tools you can use:
When you install any of these programs, you ask the system to scan the device's memory for deleted files.
It is important to say that these programs have free versions, with limitations on the number of files that can be recovered. Therefore, for a large amount of data recovery, you will probably have to get a paid version.
In more complex cases, such as physical damage to the disk or a structure with many files and corrupted files, these tools may not offer a good chance of recovery, in which case the work of a professional recovery company is recommended. Manipulation of the file structure by a layperson can cause definitive and irrecoverable damage.
What can be recovered from the external disk?
Imagine you have your master's thesis due in a few days, or that spreadsheet report you spent days preparing. Or your life in digital photo albums, or even that raw audiovisual material that was going for a final edit. A tragedy happens and the files are lost. And now what? Now what?
It doesn't matter what it is. All files can be recovered. Below are some extensions:
Documents: DOC/DOCX, XLS/XLSX, PPT/PPTX, PDF, CWK, HTML/HTM, INDD, EPS, etc.
Videos: AVI, MOV, MP4, M4V, 3GP, 3G2, WMV, MKV, ASF, FLV, SWF, MPG, RM/RMVB, MPEG, etc.
Images: JPG/JPEG, TIFF/TIF, PNG, BMP, GIF, PSD, CRW, CR2, NEF, ORF, SR2, MRW, DCR, WMF, RAW, SWF, SVG, RAF, DNG, etc.
E-mails: PST, DBX, EMLX, etc. (from Outlook, Outlook Express, etc.)
Audio: AIF/AIFF, M4A, MP3, WAV, WMA, APE, MID/MIDI, RealAudio, VQF, FLV, MKV, MPG, M4V, RM/RMVB, OGG, AAC, WMV, APE, etc.
Other files: ZIP, RAR, SIT, ISO etc.
How do I recover deleted files from a formatted external disk?
When you format files from your external disk, USB flash drive or memory card, there may still be traces of these files on your data storage device.
From the moment your disk was erased or formatted, or your file was accidentally deleted, you cannot put any more files on your disk.
This is because when you put new files on your device, it can overwrite the old deleted files.
In other words, if you put new files on a disk that has been formatted, the previous files cannot be recovered. Only a data recovery professional can be called upon in cases of overwritten data.
How do I see the recycling of an external disk?
Yes, external disks have a Recycle Bin, just like Windows Recycle Bin or Mac Trash, but it is usually not visible as it is hidden by default.
To see the Recycle Bin of an external disk:
Click start > computer > find the external disk and right-click on it.
Go to properties> click on the quota tab> show quota settings> make the adjustments you think are best;
Go to properties> general tab> click on disk cleanup to actually delete the files that although deleted were not removed.
How to recover files on a permanently deleted external disk for free?
The most common ways are data recovery programs, many of which have free versions that you can run yourself. Their purpose is to recover deleted files in the simplest of situations, and in the event of a complex situation, a professional recovery company is really the way to go.
How do I recover files deleted from the recycle bin on a free external disk?
Right-click on the folder containing the permanently deleted file(s).
Click on "Restore previous versions".
Select the desired files and click on "Restore".
If these procedures do not recover the data, you can use a professional recovery program or company.
Conclusion
In this delicate and unique situation, and when the incidents mentioned above occur, what would you prefer?
Make the corrections on your own, but at the risk of irreversible losses? Or seek professional help?
A company specializing in recovering deleted files from an external drive works with the best equipment, professionals and environments for this process. Furthermore, they have experience in the most diverse cases of file loss, from the simplest to the most complex, and are highly committed to excellence in file recovery.
So, with professional help, you guarantee total security for your data. And the chances of recovery become much greater, especially in the case of files deleted from an external disk.
Bot Recuperação de Dados® is a leading multinational company in professional data recovery services with over a decade of experience. Our commitment is to recover your files safely and with excellence. We are one of the only data recovery companies to offer services 24 hours a day, seven days a week, as well as offering the lowest prices with easy payment terms.
Count on us! Contact Bot!
As well as a free quote, we guarantee free collection of your device by express delivery from any address in Portugal!