A disk backup (whether to an internal or external drive) creates a copy of your files so that they can be accessed in an emergency (virus attacks, operating system or hardware failures).
In other words, the only way to ensure that no important files are lost is to create a backup of your disk.
But how do you do this safely? What is the best drive for this backup: internal or external? What are the advantages and disadvantages of an external disk? Is full or partial backup best? And is automatic backup really useful?
That's what we're going to find out in this post!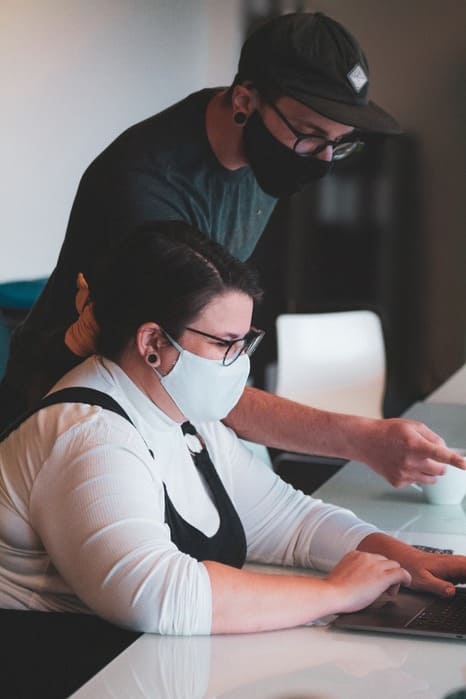 How do I back up a hard disk?
To back up your disk, copying photos, videos, files and applications, you will need to use a specific system.
This system can be either native (already installed on your Mac or Windows operating system) or third-party software.
Some examples of backup software are
Disk backup, even if it seems like a simple procedure, contains a trap: if it fails – and you don't realize it – you will only find out when an emergency occurs that requires the recovery of this data.
In other words: when you need it most.
Internal Disk
Backing up to the internal disk means that you will save a copy of your most important files on another partition of your disk.
For example, let's say you back up your documents folder to another folder on another partition – say, the contents of "C:UsersYouDocuments" can be copied to "D: Backups".
This guarantees security in the event of accidental deletions and modifications, file corruption or damage to your files. After all, you only have to restore them from your backup copy.
But this doesn't protect you from a system crash. Therefore, when using this approach, it is difficult (if not impossible) to back up the entire system.
In other words, if your Windows or Mac crashes for any reason, you will not be able to revert to a backup copy.
That said, let's look at how to back up to the internal disk on Mac and Windows.
For the Mac, follow the step-by-step instructions:
1 – Open the Apple menu, go to "System Preferences" and click on Time Machine
2 – Click on "Select Backup Disk"
3 – Select the disk that represents your internal partition. If you want to keep your data safe, click on "Encrypt backups". Once this is done, click on "Use Disk".
For Windows, you can use "File History" to back up to an internal drive.
Use the path: Start > Settings > Update and security > Backup > Add a drive.
Then select the internal drive to make your backups.
External Disk
This is the most recommended backup approach. This is when you save a copy of your photos, videos, documents, applications and other files on a disk drive outside your computer/laptop, connected via a USB port.
Backing up to the external disk keeps your files protected in case:
Accidentally deleting, modifying, corrupting or damaging your files: you can restore them from the backup copy of your external disk
Hardware failure: if the system disk fails, replace it and restore from backup
Most system failures: if your installation fails for any reason, you can revert to a backup – instead of reinstalling your operating system from scratch
Most malware: you can restore a full system backup made before the incident.
However, backing up to an external disk doesn't protect you from malware that infects connected drives, nor does it help in the event of theft or disaster.
So, follow the step-by-step instructions below to back up your Windows on an external disk:
1 – Connect your external drive using the USB connection on your desktop/laptop and wait for the system to recognize the new hard drive
2 – Click on the "Start" button or press the Windows logo key on your keyboard and then select "Control Panel".
3 – In the "Adjust computer settings" menu, double-click on "Backup and Restore" to use the feature that makes backup copies of your PC.
4 – A window will open, displaying various information on how to perform automatic system registration. Select the "Change settings" command to customize the backup tool
5 – After selecting the external disk you have connected to your computer/laptop, click "Next" to continue to the next stage of backing up the external disk
6 – Click on "Let Windows choose (recommended)" to make the standardized backup. If you want, you can choose "Let me choose" to manually select the files you want to copy. Then select "Next" to continue
7 – A summary of the choices you have made will be displayed by the save wizard. Select "Save settings and run backup" to start backing up your Windows to the external disk
8 – Wait until the backup is complete on the external disk. Follow the progress of the process via the recording progress bar, which is displayed on the screen.
To back up your Mac, follow the steps below:
1 – In the Apple menu, select "System Preferences" and click on Time Machine
2 – Go to "Select Backup Disk"
3 – Select your external disk, click on "Encrypt backups" and then "Use Disk".
To carry out the procedure, Time Machine requires that the disk selected for storing the backups is formatted.
If the disk you have chosen is not formatted, click on "Erase" to proceed – this action will erase all the data from your backup disk.
Use external disks for backup
External disks are widely used for backups for various reasons: cost-effectiveness, ease of installation and transportation. However, their use has both advantages and disadvantages.
Check out each one below:
Advantages
Backing up to external disks is cheaper than other alternatives, such as automatic backup software.
In addition, backing up to external disks is faster – since it doesn't depend on the speed of the internet, for example. Especially versions with USB 3.0, USB-C or Thunderbolt connections (for devices with compatible ports, of course).
Not to mention the fact that it doesn't slow down your connection during the backup process.
Disadvantages
The biggest disadvantage of backing up external disks is that they can fail at any time, either mechanically or for various other reasons.
For example, you could try to plug it in and it simply won't work – which prevents you from accessing the data saved on the device.
In cases of automatic backup – where external disks must be connected all the time – your files are also exposed to data corruption by viruses.
Furthermore, if you accidentally delete a file, the automatic backup replicates the error, creating a backup without that file.
When unencrypted, external disks can also be easily accessed by unauthorized persons.
Complete vs. partial backup
In a complete backup, all the data and files on your internal disk are saved, whether on an internal or external drive.
This backup model is not always the best, because it generates heavy files – usually containing unnecessary data.
So, if you prefer a full backup, clean up your laptop or computer manually by deleting files and uninstalling unnecessary applications.
Partial backup, on the other hand, is used by people who want to free up disk space by making their machine perform faster.
In this case, the idea is to make copies of only the most important data and files – and they may be needed in the event of a disk failure.
Automatic backup to external disk
Automatic backup is when your files, apps, videos, photos and other documents are backed up at a frequency predetermined by you, on specific days and/or times.
You can automatically back up to an external disk from Windows in two ways: using the "Backup and Restore" feature or via "Windows File History".
Remember: both options require the external disk to be connected to your laptop or computer at all times in order to receive the backup updates.
1 – Backup and Restore
1 – Use the path "Settings" > "Update and security" > "Backup" > "Go to Backup and Restore" (for Windows 7)
2 – Next, select "Change Settings", choose your external hard disk to store your backup (which will appear in a list) and then click "Next".
3 – Select the "Let me choose" alternative that will appear in the window and then click "Next" to choose the files you want to back up.
4 – Under "Configure Backup", choose how often you want the backups to be made (daily, weekly, monthly). Also set the time and finally click on "Ok".
5 – To finish, select "Configure settings and run backup" and wait for the process to be completed.
2 – File history
In the Control Panel, select "File History"
Click on "Select drive"
Choose the external disk, which will be described as "Removable Disk" (accompanied by the letter of your external drive, usually E:).
Then press "Ok" to continue
Go to "Advanced Settings" and define how regularly you want your disk to be backed up (minutes, hours or daily).
Finally, select "Run now".
On Mac
If you have a PC or Mac laptop, you can use Time Machine to make automatic disk backups.
As with Windows, you need to keep the external disk connected to your device for the backup to be updated on the device.
To use it, go to the Apple menu (located in the top left-hand corner) and select "System Preferences" and then "Time Machine".
Then select your external disk from the list to configure it.
Time Machine makes backups from your disk to the external device hourly for the last 24 hours, daily for the last 30 days and weekly for all previous months.
Remember: the oldest backups are automatically deleted by the app when the disk becomes full.
Conclusion
A backup is a procedure that copies files from your disk and stores them in a different partition on your computer/laptop (internal) or on an external hard disk.
External disks are more recommended than internal ones – but each has advantages and disadvantages. You have to choose what works best.
The backup doesn't always have to be complete (in which case it generates copies of files containing unnecessary data). It can also be partial, where you copy only the most important files.
As well as manual backups, they can also be done automatically. But in this case, if you opt for the external disk, you will need to leave it connected to your computer/laptop so that the backup is kept up to date.
Although it may seem like an easy procedure, backing up may require technical knowledge in order to be successful.
Furthermore, if your backup fails, you won't realize it until an emergency arises and you need to restore it – in other words, when you need it most.
If this is the case for you, count on us! We at Bot can recover your data in complete safety.
We will collect your device free of charge from any address in Portugal, analyze it, send you a quote within 48 hours and – as soon as you confirm – recover your data.
Fill in this form to start your restoration and become one of our more than 100,000 successfully resolved cases!