A memory card is a storage device used to increase the storage space of digital cameras, video cameras, smartphones, etc.
Memory cards can store tons of photos, images, videos, documents and various other files.
In addition, memory cards come in various form factors based on their functionality. These divisions of memory cards are: SD card, Memory Stick, Micro SD card, XD card, CF card, SDHC card, SDXC card, etc.
However, any external storage device, including a memory card or SD card, is vulnerable to errors due to various scenarios.
In this article, check out the most common memory card errors and reliable methods for fixing them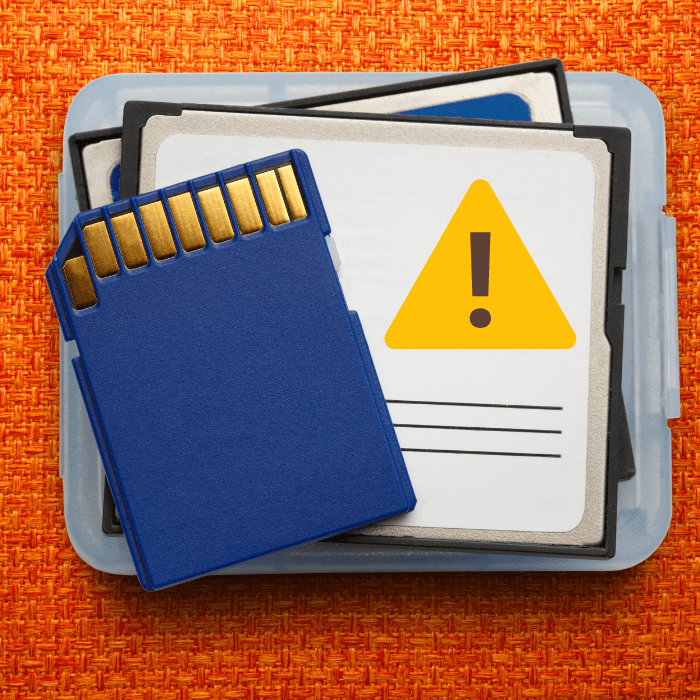 Why does the SD card fail?
Like other types of data storage devices, the memory card is susceptible to various problems.
It is important to note that SD cards are very delicate and require the utmost care when handling them.
Even the smallest negligence on your part can drastically affect the condition of the SD card. For this reason, they should be kept in appropriate cases when not placed in the device.
As well as improper handling, there are other reasons why the SD card may fail.
For example, removing the card without ejecting it correctly (or without turning off the device it is inserted into), inserting it into devices suspected of being infected by viruses, using defective card readers, and turning off the device it is inserted into while it is performing a recording process.
Causes of memory card errors
There are a number of reasons why the memory card may suffer errors.
Some of them are incorrect formatting, incorrect file system (RAW), defective reader, virus/malware infection, corruption of the disk or drive structure, power surges and interruption of the recording process.
Below, we detail each of these most common causes of memory card errors. Check them out:
The memory card is not formatted correctly
If, when you try to open your memory card, you get an error message saying "The disk is not formatted, do you want to format it now?", this means that it is not formatted correctly.
This could be due to:
Serious virus infection on the SD card;
Improper formatting method;
Frequent reformatting;
Use of the SD card in virus-infected devices.
The file system is damaged or the file system property is RAW
When an SD card becomes RAW, the operating system prevents you from opening the device and will ask you to format the memory card, sending you the error message "You need to format the disk in the drive before you can use it" – or something similar – every time you try to access the files saved on it.
This is because RAW is not a valid file system, and cannot be recognized by the computer. Generally, the file system on your SD card turns into RAW due to:
SD card file system damaged or corrupted;
Memory card file system missing;
File system not recognized by the computer;
SD card formatted with an incompatible file system.
The problems listed can be caused by a virus attack, incorrect operations on the storage devices, format failure, etc.
Defective card reader
In order to read data from an SD card, the card reader also needs to work properly. If there is any damage to the SD card reader, it will not be possible to read the data.
Therefore, to guarantee that this is not the case, try inserting the SD card into another reader or device for additional verification.
Virus or malware infection
If you insert the SD card into an infected device, it can also be infected by viruses or malware. This can affect the current status of the files and also make the data unreadable.
In addition, some viruses can encrypt card data with a password, while hackers ask for a reward to unlock your files.
Corrupted memory card disk structure or corrupted memory card
When the memory card is corrupted, this means that you can't access the files, and the stored files may disappear because the SD card can't be opened or can't be recognized by your computer.
Some signs that your memory card is corrupted are:
Missing data;
Card not recognized;
Error messages: when inserting and trying to access the card, alerts such as "Access denied" or "SD card will not be formatted";
Unknown files;
Unable to read and/or write data;
Device malfunction;
Blank SD card: a corrupted SD card with data can be displayed as empty on your device.
Power surges when removing the memory card without turning the camera off
An unexpected power surge – which can be caused, for example, by removing the memory card while the camera is on – can logically damage the card.
After such a power surge, if the card is really logically damaged, when you try to open it on your computer, you will receive a message asking you to format the device in order to access the data.
In addition, when you check the memory card in the "Disk Manager" interface or in "Properties", you will also find that it is displayed as RAW – and not in the usual NTFS or FAT32 format.
Turning the camera off during the recording process
When you turn the camera off during the recording process, this interrupts the execution of the file transfer process, damaging memory blocks and corrupting the card.
Therefore, it is recommended to keep the camera on during the recording process.
What to do when the memory card fails?
If your memory card is causing an error, here are some steps you can take to solve the problem:
Insert your memory card correctly
The first thing to do to fix memory card errors is to reinsert the SD card correctly..
To do this, turn off your camera or smartphone device, remove the memory card and carefully insert the SD/memory card back into the device.
If your memory still shows errors, move on to the next method.
Connect your memory card to another device or computer
Sometimes memory cards can present errors due to compatibility problems.
To check for compatibility problems, connect your memory card to your computer or any other device.
If your memory has compatibility problems, you will need to replace the memory card to solve the problem or use the devices on which your SD card does not have compatibility problems.
However, if your memory card is corrupted and you have important photos, documents or videos on it, it is best to use a data recovery method.
Fix memory card or SD card error using the CHKDSK function
Before executing this method, it is best to use a data recovery method to avoid any data loss scenarios.
Only then follow the steps provided below to get access to the files on the memory card, such as photos, videos, audio, text documents by running the CHKDSK command.
Connect the corrupted SD card to your computer and type "cmd" in the Windows "Start" menu;
Open "Command Prompt" as an administrator;
Type Chkdsk f: /r (replacing F with the letter of the corrupted memory card);
Press "Enter";
Wait for the operation to finish to correct the SD card or memory card error.K.
Format the memory card
The last thing to fix any SD card or memory card error is to format it. Before proceeding to format your SD card, it is important that you recover the saved data, as formatting will remove all the files.
To format:
Type Control Panel into your Windows search;
Select "Administrative Tools";
Now, click on "Computer Manager";
Then, click on "Disk Manager";
Next, right-click on the unrecognized SD card;
Now select "Format" to complete the formatting.
Conclusion
Like external hard drives and other storage devices, memory cards are also susceptible to damage and serious failures.
This can happen when the file system is improperly formatted, when the card becomes RAW, or when it is infected by a virus.
Memory cards can also present errors when their structure is corrupted or when they suffer power surges (in cases of removal with the device plugged in or without ejecting properly).
Finally, when the device in which the card is inserted is disconnected during the recording process, this can also cause errors.
To resolve memory card errors, sometimes simple solutions are enough – such as inserting the card correctly or connecting it to another device.
However, in other cases, more complex solutions are required – such as running the CHKDSK command in CMD or formatting the card.
Now, to recover data from your memory card with total security and guarantee, you only need a company that specializes in data recovery, such as Bot.
Here, our experts recover your card's data in a clean room – a fully particle-controlled environment that protects your drive from physical damage.
We also work with memory cards of any model, brand and file system – repairing the drive regardless of whether it has been dropped, burned, corrupted or simply had its files removed.
Not to mention that we recover your data in record time and your quote is ready in 48 hours at the latest.
Finally, we also pay for the collection of your memory card from any address in Portugal.
Start your recovery with us and become one of our 100,000 successfully resolved cases!