Over time, the world has become more practical, thanks to advanced technologies. For example, we no longer use piles of files for documentation or hundreds of albums to protect our memories.
In this modern age, we simply use SD cards to protect our important data.
Now, what do you do when your SD card is not recognized on your mobile phone or Windows 10/11? Or rather: what are the reasons why your SD card doesn't show up?
This is a critical situation, but you don't need to panic because there are several ways to get your SD card working again – and that's what we will look at in the article today!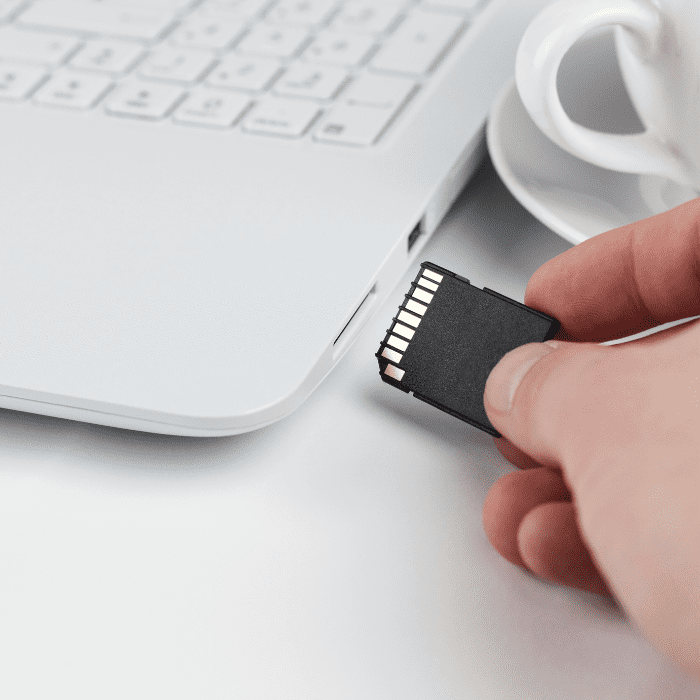 Why is the SD card not showing up?
To know how to fix an SD card in your phone or computer that won't recognize it, it is important to know the cause behind the problem. This will help you solve the problem in less time.
Here are the probable causes of the problem:
SD card connectivity problem
This is certainly the simplest problem when the SD card is not recognized by your phone or computer.
Fortunately, if your SD card isn't displaying files due to a connectivity problem, you can easily fix it. So before making any drastic changes, just remove the SD card from the device, clean it and plug it back in.
If your notebook doesn't have a built-in SD card slot, you should use an adapter.
However, if the adapter is faulty, the memory card will not be recognized.
In this case, try using another card reader – remembering, of course, to use a compatible SD card reader or adapter.
The files on the SD card are hidden
Another possible reason for the SD card not showing all the files is that some of them may also be hidden.
In this case, your SD card will be detected, but may not show the files you want to access.
In Windows, you can easily view hidden files on your SD card by activating its settings.
Once the SD card is connected, you can simply go to "File Explorer" and browse the storage.
Then simply visit the "Main Menu". In the "View" tab and in the "Show/Hide" option, choose to display the hidden items.
Now you can simply refresh and see if this fixes the files on the SD card not appearing.
Sometimes, when saving files, large segments are stored instead of the entire document. So if you are looking for a large file, you may not be able to locate it on the SD card.
You can manually search for hidden segments. For example, if there is an .mp4 video that you can't find on your SD card, you can search for files with the extension.m4s in the search bar.
If the files on the SD card are not being displayed on the phone, you can use the native file explorer application.
Most of the latest generation applications (such as ES File Explorer, iFiles, Solid Explorer or Ghost Commander) allow you to view the files hidden in the storage.
Simply access the application's settings and enable the option to view hidden files on your Android.
The SD card is blocked
A very common problem that can stop you from using your SD card is a physical lock that the device contains – and can be activated accidentally.
Almost all SD cards have a write-protect key, which only allows "read-only" operations and can cause files not to be displayed on the SD card.
Missing or deleted SD card data
If the SD card is recognized but is not displaying files, it is likely that it has been formatted or that you have accidentally deleted the contents.
In this case, you will need to resort to an alternative for data recovery.
The SD card has been corrupted
Another reason for the SD card not being recognized may be related to corrupted storage.
Corruption for any reason can make the file system inaccessible.
How to fix the unrecognized SD card in Windows 10/11?
Here are some simple ways to repair an unrecognized SD card in Windows 10/11, check them out:
Using a different USB port
When the system doesn't recognize your micro SD card, the USB port is the first thing to check. Try another port before resorting to any more drastic solution.
Check if the PC or a card reader is faulty
If your SD card is only unreadable through one of the system's USB ports, the problem may lie with your computer.
Try different USB ports from another PC. You could also try another, better SD card to check for a new one.
Disable write protection
SD cards usually have a small switch on the side for write protection. Simply deactivate it and the drive will function normally again.
If the SD card doesn't have a button and is still write-protected, follow the steps below:
Go to "Device Manager";
Launch the "Run" window;
Type devmgmt.msc;
Click on the "OK" button;
Search for and locate your SD card;
Right-click to choose "Properties";
will see a tab entitled "General Tab" or "Policy Tab";
Uncheck the tab;
Click on "Ok".
Change the undetected SD card drive letter
Your micro SD card will not be recognized by your computer system unless it has a drive letter.
To assign a drive letter to your SD card:
Go to "Disk Manager";
Locate your SD card that is not showing up;
Right-click on it;
Choose the option: "Change drive letter and path";
Click on the "Change" button;
Choose a drive letter from the list (that is not being used by another drive);
Click on the "Ok" button.
Run CHKDSK to detect the SD card
CMD's CHKDSK command is a good way of finding SD card file system corruption errors and removing bad sectors.
Therefore, it is also a good solution for fixing the SD card that is not being recognized. To do this:
Right-click on "My Computer";
Select "Manager";
Go to "Disk Manager";
Press the Windows + R keys simultaneously;
Type cmd;
Press the "Enter" button;
Type chkdsk D: / f;
Press "Enter".
Update the SD card driver
The most common reason why the system doesn't recognize your SD card is that the driver isn't up to date.
Follow the steps below to update the SD card driver:
Connect your SD card to the computer system;
Follow the path "Control Panel" > "System" > "Device Manager" > "Disk Drivers";
Locate your SD card;
Right-click on it and select "Uninstall";
Choose "Check for hardware changes". It will update the driver configuration and the card driver will be updated".
Clean viruses or malware
The SD card that does not appear may have been the victim of a virus or malware attack. In this case, clean the software of viruses or malware by following the steps below:
Connect your SD card to the system;
Go to the "Start menu";
Type cmd in the search bar;
Press "Enter";
Click on cmd;
Right-click on cmd. Exe;
Type attrib -h -r -s /s /d drive letter:*.*.
Format the SD card
The last option for detecting the SD card that doesn't show up is to format it immediately – remembering that this process will erase all the data, files and documents saved on the drive. You will therefore have to find a way to recover them after formatting it.
Press Windows + D
Press Windows + E
Right-click on your SD card
Select "Format".
Recover data from unrecognized SD card with BOT
We at Bot specialize in SD card recovery, regardless of brand, file system or model.
It doesn't matter if your card is not being recognized due to cracks, exposure to fire, corruption or having your files deleted, we can recover your data.
Furthermore, we carry out the analysis and send you a quote free of charge, even if your card has already been analyzed by other companies.
Conclusion
SD cards are widely used these days, mainly for storing files and data on smartphones.
However, even though they are practical and efficient, these devices are not immune to faults and can end up suffering from certain problems. For example, they may not be recognized by mobile phones or PCs.
This can happen for a number of reasons, including connectivity problems, device corruption and so on.
To fix this problem in Windows, you can use a different drive, check if the card reader is faulty, disable card protection or change the drive letter and path.
You can also run the CHKDSK command, update the card driver, run a scan to remove viruses and malware or, if you can't do that, format the SD – which will cause the stored data to be lost.
If you need to format your SD, don't worry: we at Bot can recover your data!
We have over a decade of experience in data recovery, with more than 100,000 cases successfully resolved.
For your convenience, we don't charge for shipping your SD card from anywhere in Portugal.
Start your data recovery with us now and join our 99% satisfied customers!