Sometimes you are working on your computer and delete a folder by mistake. It could also be that someone else accesses your files and deletes a folder improperly. Or you might delete it intentionally, but then need to access it again and it is no longer available… In these cases, the question is: how do you recover the deleted folder?
Well, if the files are still in the recycle bin, the solution is simpler. The bigger problem is when the folder is permanently deleted from your computer or mobile phone – and, even worse, you don't have a backup of the files…
But don't worry, there is a solution! Below, we will give you a better idea of what happens when you delete files and folders and how to recover them. Check it out.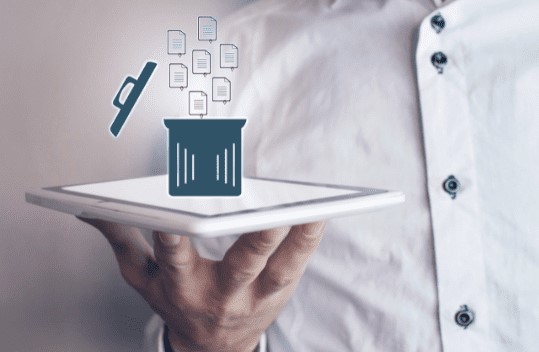 How do I recover a deleted folder on my computer?
If you have deleted a folder on your computer and it has gone to the Recycle Bin, there is nothing to worry about. Recovering the folder is simple:
Type "Recycle Bin" into the Windows search bar (the icon is often fixed to the Desktop);
Find the deleted folder in the Recycle Bin file list;
Right-click and select "Restore".
In this way, it will send the deleted folder back to its original location and you can access it again.
However, if the Recycle Bin is already full, and you deleted that folder a long time ago, you may not find it anymore. This means that the folder has already been permanently deleted, and you need to follow the steps below.
To prevent this from happening, try to keep the Recycle Bin folder always full, so that the deleted files stay longer and you can restore them.
How do I recover a permanently deleted folder?
In general, files are permanently deleted when you use the Shift + Del keys or when the Recycle Bin reaches its storage limit and you need to free up space.
In these cases, although the computer informs you that the deletion is permanent, you should know that the files and folders are not gone for good. The device only deletes their references, but the files remain in fragmented form.
As long as they are not overwritten by other files, you can still regain access to them. Here are some ways to do this:
Stop using the device
The first step to recovering a permanently deleted folder is to stop using the device, to prevent new files from overwriting the deleted data. If this happens, data recovery may not be viable.
Recover the folder from the Windows backup
This is a free data recovery method, but it requires that you have already activated the File History feature, which keeps copies of files on an external drive. This way you can recover them if they are damaged or lost.
If you already have this feature activated, it is simple:
Type "file history" into the Windows search bar and click on "Restore files with File History";
Click on the "Previous" button to locate and select the deleted folder;
Click on "Restore" to recover it.
Restore older versions of the folder
You can also try to recover the deleted folder by restoring its old versions. This way, you can take the drive back to a point before the folder was deleted, so that you can recover it. To do this:
In File Explorer, go to the drive or folder that stored what you deleted;
Right-click and select "Restore previous versions";
Under "Previous versions", click on the restore point you want to resume;
Click on "Restore".
This method requires you to have set up a system restore point at some point before deleting the folder.
If you want to do this today to ensure a restore point in the future, type "Create restore point" in the Windows search bar and follow the configuration steps.
Use data recovery software
If you haven't set up File History or the Windows restore point, you should use data recovery software.
Programs like EaseUS, Recuva and Recoverit specialize in data recovery. They scan your disk for deleted files and folders so that you can access them again.
These programs usually have a free version with limitations and paid plans with greater recovery capacity. If you need to recover a large amount of data, you probably need to buy the tool.
It is important to note that these tools are popular and require care and knowledge to carry out the procedures. Any mistakes in this process can make data recovery impossible.
In addition, it is not always possible to recover all the data, which will often require the use of more advanced tools used in data recovery laboratories.
Hire a company that specializes in data recovery
Hiring a company that specializes in data recovery is the best solution to guarantee safe procedures and a better chance of success.
A company like Bot has the experience, professionals and specialized equipment to recover deleted folders and files, even large volumes of data.
This way, you don't run the risk of losing important data that has been deleted by mistake or accident. What's more, the chances of recovering all the lost data are greater, as specialized companies use advanced software and equipment.
How do I recover a deleted folder from my phone?
Deleting a folder from your phone means that it has been permanently deleted, as the devices don't have a Recycle Bin. So if you want to recover a deleted folder from your phone, you will also need to use software and tools or a specialized company.
If the folder you deleted from your phone was on the memory card, you can connect this storage unit to your computer and run the programs we mentioned earlier (EaseUS, Recuva, Recoverit or others).
On the phone itself, you can use smartphone applications such as Undeleter and EaseUS MobiSaver. Just like data recovery programs for computers, they don't guarantee 100% data recovery.
Furthermore, you can avoid permanently deleting files by installing a recycle bin on your phone. Although devices don't have a recycle bin, some applications do, such as Recycle Bin and Dumpster. With them, you can restore deleted files more easily – but you need to have already installed the app to be able to recover them.
In short, these are the solutions for recovering a permanently or non-permanently deleted folder on your phone or computer. In many cases, the solution is a little more complex, so the ideal is to avoid data loss by backing up your files regularly, either on an external drive or in the cloud. That way, you don't have to worry!
However, we don't always have backups of the folders and they aren't always up to date. So if you need help recovering deleted folders or files, you can count on Bot. Get a quote now and start recovering your data!