Western Digital, known by its acronym WD, is one of the world's leading hard disk manufacturers. The US company is responsible for 36% of the disk drive market worldwide and is known for the quality of its products. But even excellent quality disks can run into problems. That's why we will explain how to recover a Western Digital disk in this article.
You will learn more about the brand and discover the most common flaws in these disks. You will also understand the step-by-step process for getting your lost data back. Read on and check it out!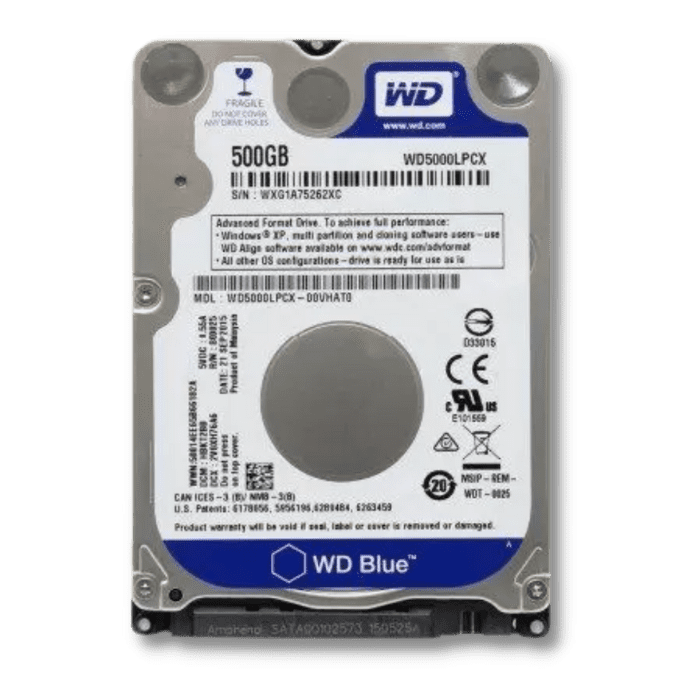 What does the Western Digital company do?
Western Digital Corporation is a company founded in California in 1970. In the beginning, WDC focused on the production of integrated circuits. It entered the hard disk drive market in 1988 with the purchase of Tandon's disk drive division. Since then, the company has established itself as one of the world's leading disk brands.
Today, Western Digital produces hard drives and SSDs for both internal and external storage. In the first quarter of 2021, WD ranked second among the world's top disk drive sellers, with 36% of the market. Seagate, its main competitor, accounted for 43% of sales, according to Statista.
Why can data on a hard disk be lost?
Western Digital disks are good quality devices. However, they can still present problems, just like any other disk. Some of the most common hard disk errors include:
Mechanical damage
Have you dropped your laptop or hit your computer hard? This can cause damage to your disk. As hard disks are mechanical parts, any impact can damage the components responsible for reading and recording data. This can corrupt the disk or make it difficult to use.
Virus and malware contamination
Your data can also be compromised by hacker attacks and virus infections. In these cases, your computer may not recognize the disk or some files may appear corrupted.
Liquid spillage
Spilling water, coffee or juice on your computer or external disk is another common cause of disk problems. In these cases, the liquid affects the disk's electronic circuits and can compromise the data stored on the device.
Power outage
The disk can be compromised whenever the computer is turned off improperly. Whether caused by power outages or even misuse, these problems can affect the health of the disk. In these cases, the disk can become corrupted and no longer be found by the system.
The most common faults in Western Digital disks
In the case of Western Digital disks, there are two common errors that can occur, in addition to the normal failures we mentioned above. This doesn't mean that these problems only occur with WD disks, but that they can also happen with these devices. Understand each of them!
Faulty preamplifier
Preamplifiers are chips located in the disk that help amplify the signal from the heads responsible for reading and writing data. These chips cannot handle static discharges and, when they occur, the part can start to show problems. In addition, power fluctuations or drops can damage the device.
These errors were more common in older disks, but in some Western Digital models they still occur.
Problems with the disk motor
The hard disk motor is responsible for making the platters spin. In the process, they are written to by the heads and the data is read or saved. Therefore, when the motor has problems, the entire operation of the disk is compromised. In these cases, the disk may make a noise, so pay attention.
Is it possible to recover a Western Digital disk?
Have you had one of the above problems and are worried about your hard disk? As with most brands, it is possible to recover a Western Digital disk, but this depends on the type of error encountered. A more thorough assessment will determine whether it's possible to use the device again. But you can try a simple way to get it working again.
If your operating system is Windows, just follow these steps:
1 – Open the start menu.
2 – Type "cmd" (without the quotes) and press the Enter key. Wait for the Command Prompt to open.
3 – In the Command Prompt, type "chkdsk g:/f" (also without the quotes, replacing the "g" with the drive you want to recover). Then press Enter.
Your disk will then undergo automatic system recovery. This is a simple and safe way of trying to fix the problem at home. However, if your disk still doesn't work, the best solution is to go to a specialized company.
Nowadays there are several data recovery software programs, such as Recoverit, EaseUS Data Recovery, DiskGenius, among others. But we don't recommend that these programs be used by anyone without experience. Trying to recover a Western Digital disk without knowing what you are doing could cause further damage to the device and lead to a permanent loss of your files.
Also, avoid opening your disk. Physical damage is very serious and can further damage the integrity of your data.
How to recover a Western Digital disk?
So, how do you recover a Western Digital disk? If you have tried other alternatives and had no results, we at Bot can help you. We currently have over a decade of experience and more than 60,000 resolved cases, with a 95% success rate. Furthermore, our customer satisfaction rate is 99%.
With us, you can request your quote and receive feedback in three ways: free (up to 48 hours), priority (up to 24 hours) or urgent (up to 12 hours).
Free delivery
After filling in the form, you can send your disk free of charge for analysis, from any address in Portugal.
Drop off at one of our receptions
Another option is to have your device delivered to one of our offices throughout the country. In both cases, the entire service is carried out in our own laboratories, with maximum security.
How much does it cost to recover a Western Digital disk?
Finally, many people want to know how much it costs to recover their Western Digital disk. The answer will vary depending on the extent and complexity of the problem. To make the diagnosis and set the budget, some factors include the structure of the disk, the damage found, the possibility of recovery and the work that will have to be done.
This means that prices vary greatly, but we can tell you that most estimates start at €200. The great advantage of Bot is that you don't have to spend on shipping, for example. We cover that cost so that your device can be analyzed and you can decide whether or not you want to go ahead with the service.
Conclusion
Would you like to know how to recover a Western Digital disk? Here at Bot we have a lot of experience dealing with the main disk brands available on the market today. If your problem persists, get in touch and get a quote.