What is the best SSD on the market, brands, cost-benefit and how to choose it? If you are looking for better computer performance, one of the devices that generates the most positive results is the addition of an SSD. This is because the technology of this device has come to stand out in relation to disk, due to its high speed, resistance to impacts and low energy consumption.
If you are not familiar with an SSD, the acronym means "Solid State Drive", which translates to "solid state storage". It differs essentially because it is electronic and not mechanical, without having disks like a hard disk. If you haven't had any contact with this device, you have probably heard about the benefits they bring when you start up your computer, which is a big difference compared to a disk.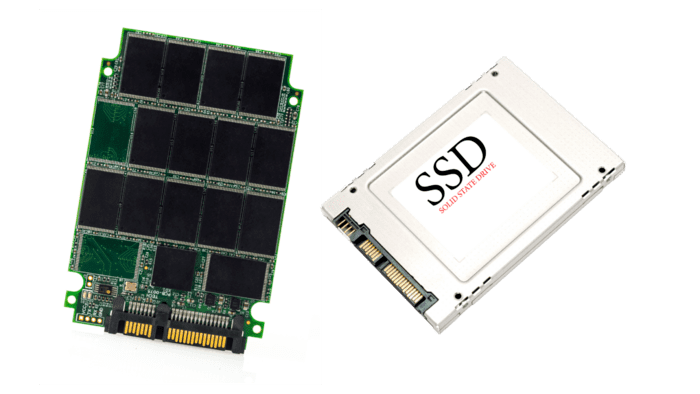 What is the difference between an SSD and a disk?
SSD differs from disk mainly in the way it stores and transmits data, and in some cases this data transfer can be up to 10 times faster. We have already explained the differences between disk and SSD here on our blog, but preference varies from person to person. Even if the SSD is faster, this doesn't mean that it is totally superior to the disk, and the same goes for the other way around.
We emphasize the importance of knowing the functionality of each to know how to choose the best device for your machine and with this in mind, we have posted a complete article to understand the differences and advantages of each. Read more about the difference between SSD and disk.
Why choose an SSD?
Today we have several ways of storing data, but you might be wondering why you should choose an SSD. First, always look at your needs and whether your computer matches them. If you want more write speed, more read speed, less noise, a device that is resistant to drops or shocks and also energy savings, there are many reasons to buy an SSD.
Once you have identified that your computer needs an SSD, in order to choose the ideal SSD, you need to pay attention to some important points, such as capacity, durability, interface with the motherboard, performance, brand, model, among others. But don't despair, if you don't know which is the best brand at an accessible cost-benefit ratio, read this article to the end. We will list the 5 biggest and best-known SSD brands in 2021.
How to choose the best SSD?
Nobody wants to buy incompatible physical equipment, right? To choose a great SSD, you need to know how compatible it is with your computer, which is why you need to assess the main features of each one. Always check the points below:
Motherboard connection
The first step in choosing an SSD is to check the connection your computer has on the motherboard. Most SSDs use the SATA port to connect. It is important to pay attention to which generation this port belongs to, because if you use one that limits the speed of your SSD, it will give you the impression that you paid for something you didn't want.
For example, SATA II ports work at a maximum of 3 Gb/s and can end up limiting the speed of the device. We recommend using SATA III ports, which work at 6 Gb/s.
There are other models that have the M.2 connection, which are smaller and fit directly into a slot on the motherboard. But even knowing this, you need to be aware of the standard of your computer and SSD.
Capacity
This is a factor that will depend on your needs and conditions at the time, as the greater the storage capacity of an SSD, the more space you will have to install programs and save files. However, the more space, the more expensive the device will be, as the capacity generally varies between 64GB and 1TB.
Durability
Most SSDs have a long lifespan, but it is always good to look for references from other users who have bought one. The lifespan of the SSD is usually limited and it all depends on how many writes are made. In general, manufacturers claim that SSDs last 10 years if used intensively and more than 10 years if used moderately.
Performance
Manufacturers provide information on the read and write capacity that the SSD in question can achieve, so always look for options that have the highest numbers to achieve greater speed. There are two types of SSD speeds that influence performance: random and sequential. Looking for some test videos on the internet to see if the option you choose really does achieve what is promised can give you more confidence when making your choice.
Size
The average SSD is 2.5 inches wide, but this can vary from model to model. Remember that you need to know if the size of the SSD is compatible with the input of your computer or laptop.
Internal or external
To choose an internal or external SSD, you need to know what you need at the moment. It can be a system-integrated option, which not only stores data but also improves your machine's performance, or it can be an external SSD, which is a portable alternative for storing files with high-performance reading and writing.
Brand
To choose the best brand of SSD, it is important to pay attention to the following factors: the guarantee offered by the product, technical assistance, product quality and the opinions of other users. This is because some models have recognized brands, but their performance may not be as expected.
NVMe model
NVMe models have more advanced technology that allows them to achieve higher speeds. In some cases, these SSDs are up to 3x faster than conventional SSDs. If you want this model, it is important to check whether your laptop or motherboard supports this technology.
What is the best SSD?
This is a question that has a personal answer, which is why we mentioned several characteristics that need to be considered when buying an SSD, since there are several brands and models. In this article, we have selected 5 great models from different brands, see the list below:

1º – Samsung 970 Evo Plus
The 970 EVO Plus is a very fast SSD with incredible performance! It is equipped with advanced V-NAND technology and firmware optimization, which maximizes the potential of NVMe bandwidth for computing. It has a heatsink and its dynamic thermal protection automatically monitors and maintains optimal operating temperatures to minimize performance drops.
Capacity: 250GB/500GB/1TB/2TB
Interface: PCIe Gen 3 x4 M.2
Warranty: 5 years

2º – Corsair MP400
The Corsair MP400 is a cost-effective gaming SSD that offers great storage capacity with extremely fast data speeds of up to 3,400 MB/s sequential read and 3,000 MB/s sequential write, many times faster than traditional Sata SSDs. It has a Gen3 PCIe x4 NVMe interface that guarantees broad compatibility and high-bandwidth performance. Its format is M.2 2280 which fits directly into the motherboard without the need for cables. The company also offers the CORSAIR SSD Toolbox software which allows advanced controls of the drive on the desktop.
Capacity: 1TB/2TB/4TB/8TB
Interface: PCIe Gen 3 x4 M.2
Warranty: 5 years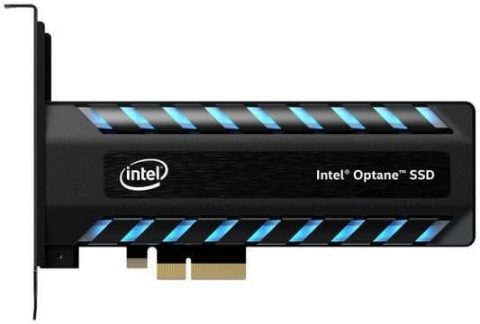 3º – Intel Optane 905P
The Optane SSD 905P is designed for the most demanding storage workloads in client systems, offering high random read/write performance rated at 575,000 IOPS, optimal storage execution and low latency of less than 11μs². Intel also offers software that allows developers to optimize applications to take advantage of the unique attributes of Intel® Optane technology. It is considered a very fast SSD with high storage reliability!
Capacity: 1.5 TB
Interface: 5in PCIe* x4
Warranty: 5 years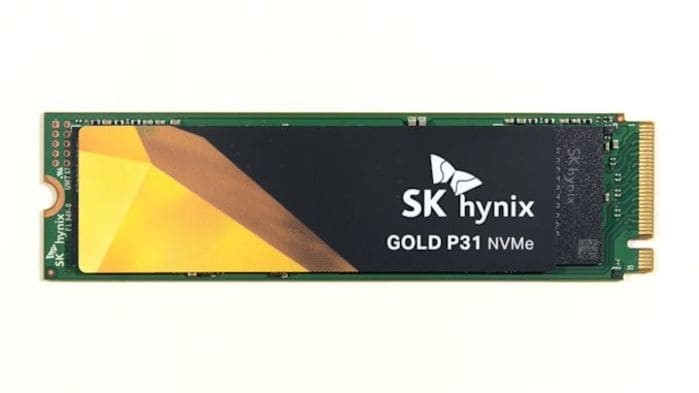 4º – SK Hynix Gold P31
The SK Hynix Gold P31 is a great SSD and offers excellent value for money. It is considered a device aimed at gamers, designers and content creators due to its high performance and 128-layer 4D NAND Flash storage technology. SK hynix guarantees its high resistance and reports that it has carried out more than a thousand hours of high-temperature testing on the SSDs.
Capacity: 500GB/1TB
Interface: PCIe Gen 3 x4 M.2
Warranty: 5 years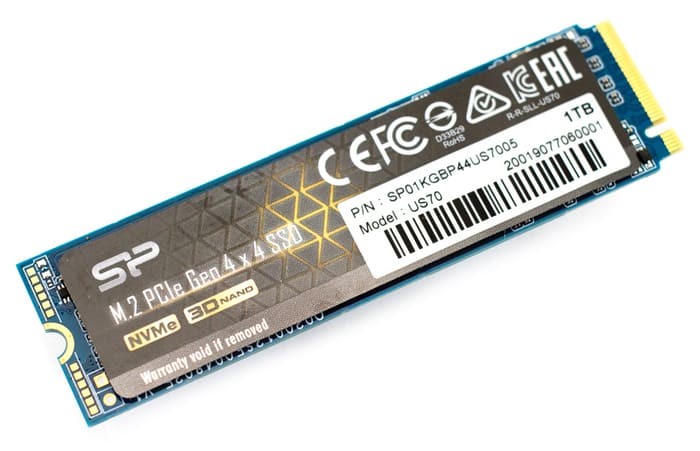 5º – Silicon Power US70
This SSD is incredibly fast compared to its value! It provides great sequential read/write and random read/write performance with a super-fast PCIe Gen3 x4 interface for read/write speeds of up to 3,400 MB/s and 3,000 MB/s NVMe 1.3. It has high performance, as well as lower power consumption and a small form factor for system flexibility, making it great for gamers. Supporting the RAID mechanism, the P34A80 also maintains system stability and data integrity even in the most demanding applications that depend on superior storage performance.
Capacity: 1TB/2TB/4TB/8TB
Interface: PCIe Gen 4 x4 M.2
Warranty: 5 years
Conclusion
Choosing an SSD is not difficult, if you consider all the points we have mentioned in this article, you will already understand enough to choose the ideal device for your computer or laptop. Essentially, all you have to do is look at the compatibility of the connection, size the capacity and speed level you need to use.
There are several SSD options on the market, and we have listed a few with different connection interfaces that will help you on your path to purchase. If you are looking for a new SSD because yours has burned out and your files have been lost or deleted, we at Bot are the reference and multinational leader in data recovery!
Would you like a free quote to find out how much it will cost? Fill in our form to start the process. You can have your device picked up at your address, or delivered in person to one of our offices.