You are facing the external drive file system error 65535 if your computer has the following problems:
The PC often crashes for no reason, it takes a long time to load programs, the mouse and keyboard are slower in operation and an error message 65535 appears on the screen.
Error message 65535 appears when you start or shut down the Windows operating system.
When updating the operating system or installing it, you may also see this 65535 error message.
If you are experiencing any of these scenarios, you need to understand what this error is, why it occurs and what to do to correct it – and that's exactly what we are going to show you in this article.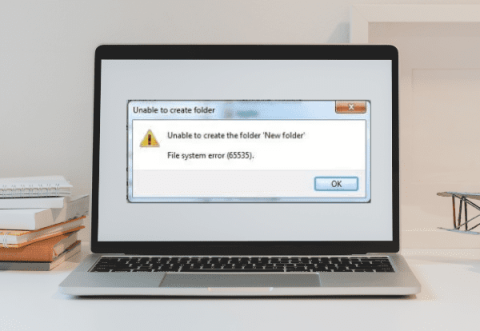 What is file system error 65535?
The external hard disk file system error 65535 is related to a file system and operation error in which the user can access the drive, but cannot perform operations – such as creating a folder, copying/modifying or deleting files and folders.
If you try to create a folder on the affected hard disk, the following error will appear:
In the worst case scenarios, you could end up losing all your data due to file system corruption. Therefore, you need to prioritize resolving this error.
Why does error code 65535 occur?
Like all other errors, file system error code 65535 also has a few reasons behind it.
First of all, you need to know the real causes of this dilemma, instead of jumping straight to the solutions.
Knowing the reasons for this error will help you deal with it in the future. Some of the various reasons that can lead to this problem are:
Bad Sectors
A bad sector is a disk sector on a disk storage drive that is permanently damaged.
When it receives damage, all the information stored in the sector is lost.
Normally, when a bad sector is found, the operating system ignores it in the future.
System crash when loading or updating windows
The system may shut down while loading or updating windows due to any reason – such as power failure or disconnection – leading to the external drive file system error 65535 problem.
Viruses and other malware installed on your PC
Using the internet is basically the same as creating a breach in your system's security.
This is because when the system is introduced to the internet, your PC becomes vulnerable to virus or malware attacks.
This can also happen when you insert an infected USB or external drive into your PC.
These viruses and other malware, when installed on your PC, can cause external drive file system 65535.
Incorrect disk ejection
Most people overlook the fact that ejecting your hard disk incorrectly can lead to devastating problems.
There are safe ways to eject your disk that should be followed – for example, choosing the eject option when removing the drive.
If ejecting the disk is not safe, it can result in error 65535.
A sudden power cut to your PC
The most common cause of hundreds of problems on your PC is a sudden power outage.
Unusual power outages can disrupt your PC in a number of ways – for example, by directly affecting the performance of your hard disk, which can lead to errors such as external drive file system 65535.
How to fix external drive file system error 65535 with CHKDSK
To solve the problem using this method, follow the steps below:
Press "Windows + S" and type "CMD";
Right-click on "Command Prompt" and choose "Run as administrator";
Assuming the letter of the connected external hard disk is E, type the command "chkdsk /f /r E:" (without the quotes) in the "Command Prompt" window;
Replace the letter E in the command with the volume letter of the affected hard disk you see in File Explorer;
Press "Enter" on your keyboard (press "Y" if prompted);
Wait for CHKDSK to scan and repair the file system and disk errors on your external drive that is showing error 65535.
Once the process is complete, restart the system and access your hard disk.
Remember: this solution may represent a risk of data loss in certain scenarios.
How to protect your computer against file system error 65535?
Now that you know what this mistake is and the reasons for it, it is time to learn the best possible methods to prevent it from happening again.
All you need to do is follow the methods below carefully:
Implement data recovery for backup
There may be situations in which you have already tried one of the methods to solve your problem, which would put you in a situation of complete data loss.
This problem could be bigger than the one you are facing now.
The good thing is that you can easily implement a backup routine and restore all lost data in the event of system errors.
Get rid of system junk
The first method you can use is the simplest. You just need to get rid of the system junk to overcome this error 65535.
Remember to make a backup of your data before starting the process, as one small mistake could delete it.
That said, follow the steps below:
Step 1: go to the command line and type "cleanmgr";
Step 2: Next, the system will start scanning the disk for possible trash;
Step 3: In the new "Disk Cleanup" window, select the folders you want to delete;
Step 4: press "Ok" and wait for the system to delete the files. Once they have been deleted, check whether or not the error reoccurs.
Use SFC to fix the error
This method can be used at any time, as it is an internal function of the system.
To use this method:
Step 1: open the command line, right-click on "Command Prompt" (as administrator);
Step 2: in the new dialog window, use the blinking cursor and type the command "sfc / scannow". Then press "Enter";
Step 3: the disk scan will start, checking whether there are any errors or not, while correcting the errors detected.
Update your PC
Sometimes your drives are outdated, leading to drive failure.
Follow the instructions below to update your PC:
Step 1: Download the updates from trusted sites;
Step 2: install them following the attached instructions.
Use CHKDSK to fix file system error 65535
You can use the "Command Prompt" to get out of the dilemma quickly – after all, this is also an effective internal method for correcting the error.
To use them, follow these steps;
Step 1: press "Windows+S" and type "CMD" (without the quotes);
Step 2: in addition, right-click on "Command Prompt" and choose "Run as administrator";
Step 3: assuming that the letter of the connected external hard disk is E, type the following command in the command prompt window chkdsk /f /r E:
Step 4: press "Enter" on the computer;
Step 5: Wait for the scanning and repair procedure. Once complete, restart the system.
Conclusion
The external drive file system error 65535 prevents disk operations such as creating folders, copying/altering and even deleting files.
It can occur due to bad sectors, system failures when loading/updating windows, virus infection, improper ejection or sudden power failure.
To correct this error, you can use CMD, running the CHKDSK command line – which can cause the data stored on the drive to be lost.
If this happens, you will need a professional data recovery service – like the one we offer here at Bot.
With over a decade of experience, our experts recover thousands of pieces of data every day.
Here, you don't have to worry about the security of your drive. Our highly trained professionals work in a room with fully controlled particles, eliminating the risk of increased damage to your device.
Furthermore, our team is available 24 hours a day, 7 days a week on our social networks, especially to answer any questions you may have.
Not to mention that, as a priority for your comfort, we don't charge for shipping your device from anywhere in the country.
Agility also sets us apart, as we can provide your data recovery quote within 48 hours.
Become one of our many satisfied customers: start your recovery with us now!