Disks are one of the main ways of storing digital data and are therefore considered essential for a computer to function.
Despite being essential, disks are very sensitive devices and often present problems. Well, the question that remains is, "how do you know if your disk is good?" And the good news is that the disk shows signs of its health.
Before it completely "dies", the disk shows some signs that allow us to identify whether or not it is healthy. In this way, you can reduce the damage that losing the device can cause.
In this article, you will learn techniques on how to tell if your disk is good or not.
And remember: if you are having problems recovering your data from a disk, just get in touch with us.
We at Bot have a team qualified to carry out data recovery operations, with all the necessary security, controlled environments and specific equipment. You can have your device picked up free of charge and receive a free quote.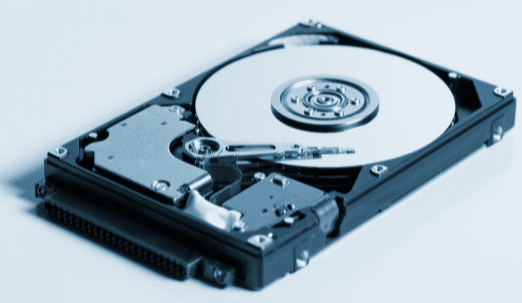 How do you know if a disk is good?
Knowing if a disk is good is not difficult. The disk gives off some signals that things are not right. So pay attention to these tips below and increase the lifespan of your disk.
1. It's slow, crashes or shows a blue screen
This can be a sign that a disk is not in good shape. If your computer crashes frequently, takes a long time to open files, restarts on its own, or even gives you the famous "blue screen", it could be that your hard disk has been compromised.
This sign may not be exclusive to disk problems, but it is certainly time to back up your files immediately.
2. Data is being corrupted
Another tip for knowing if your disk is good is to look out for corrupted files. If this happens too often, it is possible that the disk is defective and is coming to the end of its useful life.
Typical signs that a disk is bad include: files suddenly disappearing, files not opening at all or becoming corrupted, or even difficulties saving a file.
This is probably because there is already a problem somewhere on the disk. So make the good old backup.
3. It makes a lot of strange noises and sounds
This is a sign that there is advanced mechanical damage to the hard disk. If you start to hear strange noises when reading or writing data, this could be a sign that the disk is not in good condition.
The causes of the noises can even be the displacement of the recording needle on a disk. Especially when it comes to laptops, which often suffer damage when carried in backpacks.
So, if this is your situation, save your important files on another device or on a cloud platform immediately.
4. Windows doesn't recognize the disk
Another way to tell if the disk is good is from this point. If Windows has problems recognizing the disk, the problem is probably serious.
The solution is to test the disk on another machine and if the problem really is with the disk, don't hesitate to contact us so that we can help you recover the lost data.
Diagnostic applications that detect errors
To find out if the disk is good, use diagnostic tools. Here are a few:
CrystalDiskInfo
This is one of the main tools available on the market. CrystalDiskInfo was developed by CrystalMark, is completely free and can help you identify the most common problems, allowing you to be prepared in the event of damage.
It can identify frequent damage and always puts you on alert to make a backup.
HD Tune
HD tune is an excellent tool for finding out how good your disk is. Its features are sufficient to be able to check your disk's operating status in real time using graphics. With it, you can:
Check the speed of the disk;
Check the surface of the disk for bad blocks;
Checking S.M.A.R.T, (acronym for Self-Monitoring, Analysis, and Reporting Technology) which is responsible for checking the health of the disk.
There is a free version and a paid version of HD Tune. The free version has not been updated. However, you can try the paid version for free before committing to paying.
To download HD Tune, click here.
HDDScan
Another tool for checking disk health is HDDScan. HDD Scan is completely free and allows you to check more thoroughly for any ongoing problems.
It also runs S.M.A.R.T reports, just like HD Tune, indicating what's working and what's not.
You can download it by clicking here.
Check for errors with Chkdsk
Last but not least, use Chkdsk (or Check Disk). This is a Windows tool for checking your disk and you don't need to download it.
The function of ChkDsk is to evaluate the entire hard disk to find problems and fix them. It is recommended that you use the tool every few months as a general check on your computer's health.
You should especially consider using it if your computer shuts down abnormally or in the event of applications not loading or crashing.
Below is a step-by-step guide to using Chkdsk:
Open File Explorer and click on "This Computer". Then right-click on the disk to be scanned. A menu will appear and the last option will be "Properties", click on it;
In the Properties window, click on "Tools" and in the "Error checking" box, click on "Check";
When the "Error checking" window appears, click on "Check drive";
Now just wait for the process to finish. If no errors are found, just click on "Close".
If any problems are found, Windows will alert you using the "Windows Event Viewer" tool. Bugs that are found and can be fixed are fixed automatically.
To change or not to change the disk?
After carrying out all the tests, you may be wondering: do I change the disk or not?
Once you have run all the tests, you will know what to do. It may be that the problem is simple and can be fixed with a simple format. It is worth remembering that, in many cases, freeing up storage space also helps the disk to perform better.
However, if even after all these steps the problem persists and the diagnostic tools continue to show faults, consider replacing the hard disk.
Don't forget: the most important thing is to always back up and save your data before you lose it. But of course, if you have problems with this, we at Bot can help you recover your data.
The data recovery service needs to be carried out safely and with the right strategy. That's why we recover disks, SSDs, mobile phones, memory cards, USB flash drives, RAID servers and NAS, always respecting international certifications and in a secure environment.
Do you want to know more about our procedure? In this article we will tell you more about how we work.
If you still have any questions, please don't hesitate to contact our team. We'll be happy to help you!