An external disk is a storage device that can be connected to your computer externally. Offering agility when transporting data, it is important that you know how to recover a corrupted external disk in the event of this happening.
The HD means Hard Disk, and is a portable storage device with a much larger storage space than a conventional one.
Its function is to store a larger amount of data, so you can easily transport your files from one device to another. Knowing how to recover your corrupted external disk is important to avoid losing this data.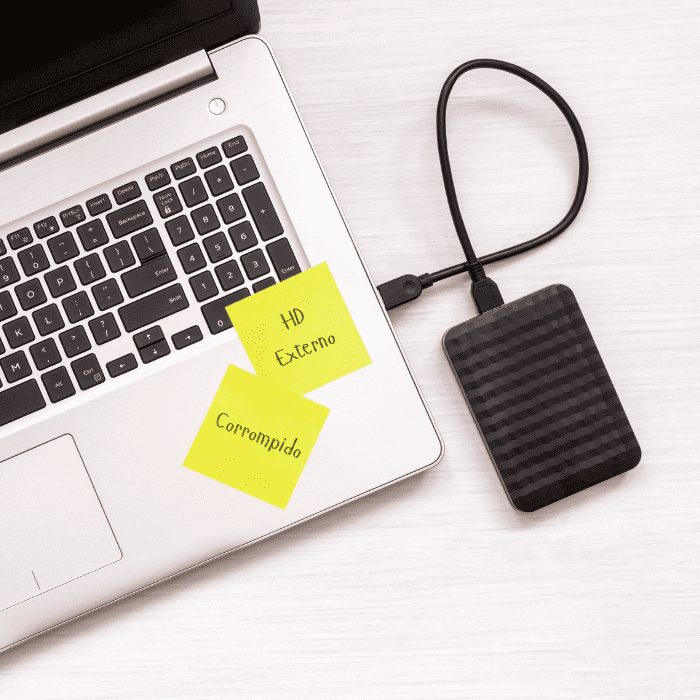 What can cause external hard disk corruption?
There are many reasons that can cause an external disk to become corrupted. The following are some of the most common reasons:
1. Incorrect operation: disconnect the device from the PC without ejecting
When you want to remove the disk from your device, it is common to just open the compartment and remove the hard disk, but there is a risk in doing this without ejecting it first.
Imagine that your computer is hard at work reading the information on your hard disk and suddenly it is removed without warning.
It would be like writing, for example, and there was a power cut, so you shut down your devices and risk losing all your work.
So, it is best to avoid risks and do this simple step-by-step before removing the hard disk, a few clicks can save you a big headache.
To eject the external disk device, just follow the simple step-by-step instructions: (1) via file explorer; (2) via the Windows taskbar and (3) via the settings tab:
Go to the "This computer" folder in File Explorer, right-click on the name of the device and, in the menu that opens, click on "Eject".
In the Windows Taskbar, click on the "Up arrow" icon to display hidden icons and locate the "Flash drive" icon. Right-click on it and select "Eject" from the menu that opens.
Open the "Start" menu and click on "Settings" or use the "Windows + I" shortcut. Once this is done, click on "Devices";
In the next tab, select your device in the "Other devices" section, click on "Remove device" and then confirm the action.
This step-by-step usually solves future problems, avoiding major headaches due to a lack of basic care.
2. Virus attack
These virus attacks are more common than you might think, it is common to enter an unsafe website or click on an unknown link by accident, and these viruses end up invading your computer and affecting its performance.
Virus attacks can lead to a huge loss of data on your computer, including the data on your external disk. Can this be solved?
Well, it is possible to recover the data from the affected hard disk using the "Command Prompt" or CMD, and we will see how this works below:
Open CMD by typing "cmd" in the search bar when clicking on "Start" on the desktop or by opening the "Run" dialog box by pressing the "Windows + R" keys.
In the open window, type "attrib -h -r -s /s /d drive letter:*. *" (replace "drive letter" with the letter of the disk drive where the files were lost. E.g.: attrib -h -r -s /s /d drive letter:*. *). Now press "Enter".
Windows will start repairing the specific hard disk affected by the virus.
Even if it takes some time and is not the most sophisticated of techniques, this step by step can solve the problem, there are some specialized techniques and software for this.
3. There are bad sectors on the storage device
There may be what are known as bad sectors on your hard disk device, these are usually clusters (system architecture capable of combining several computers to work together) that may be defective.
Thus, by not responding to the reading or writing of this data to storage, this can present two symptoms:
Physical damage – when your hard disk may have been dropped, scratched and other major damage.
Software errors – errors that prevent data from being read or written.
You can solve this problem by checking a few things:
Check cable connections, make sure everything is in place;
Check the cables, connect and disconnect the cables to check that they work perfectly, you can also test your external disk on other devices to see if the problem is with the cables or the hard disk.
Update or reinstall the drivers, for which you can follow this step-by-step guide:
To update the driver:
Step 1: In the taskbar search box, select "Device Manager".
Step 2: Select a category to check the device names and then press and hold with the right key (or press and hold) the category you would like to update.
Step 3: Press the automatic search option for the driver software update.
Step 4: Select Update Driver.
To reinstall the driver:
Step 1: Type device manager in the taskbar search box, then select "Device Manager."
Step 2: Right-click on the device name and tap on "Uninstall".
Step 3: Restart your PC.
Step 4: Windows itself will try to install the driver again.
These are simple procedures that usually resolve and help in the process of recovering a corrupted external disk.
4.File system error
File system errors are related to the disk, which can be caused by bad sectors, damaged files, damaged disk integrity, and others.
These errors can prevent you from accessing or opening a file on your hard disk.
How do I recover data or files from a corrupted external hard drive?
After checking what is happening with your external disk and the causes of it, we can make some decision to solve the problem.
Some of the solutions to these problems presented here are:
Quickly repair corrupted external hard drive by formatting
This step-by-step may seem difficult, but it is easier than you think, just follow it step by step:
Step 1: Connect the corrupted external disk to the PC.
Step 2: Right-click on the corrupted external hard drive and select Format.
Step 3: Set up the new file system – NTFS or FAT on the drive and click OK to finish the process.
Repair corrupted external disk with partition manager software
If your external disk is corrupted and has become RAW (not formatted with a readable file system) you can also try partition manager software.
These are used to create space for a new operating system, it works by copying the data from the hard drive and reorganizing it, and it is also possible to make backups with this type of software.
Some of the safest software to recover data from your corrupted disk are:
FreeUndelete: program for data recovery in Windows. Available free of charge for personal use.
Recuva: program belonging to the CCleaner software family. It offers a free version with limitations and paid plans with more features from €12/year.
DiskDrill: available for Mac or Windows, it offers recovery of up to 500MB of data for free and advanced functions in the paid plans, starting at 45€/year.
Recoverit: one of the most complete and reliable file recovery programs, available for Mac and Windows, in a free or paid version, starting at €45/year.
EaseUS: offers complete backup, hard drive optimization and data restoration solutions. The free version allows you to recover up to 2GB. The paid version starts at €71/year.
It is always advisable to look for a secure program for this type of occasion. Like Bot, there are companies on the market that work safely and legitimately, keeping your data safe.
How much does it cost to recover an external disk?
It all depends on the complexity of the problem, recovering data from a corrupted external disk may seem simple in some situations and difficult in others.
To get a basic idea of the price, you need to assess the degree of complexity of the problem and the price can vary widely; this type of recovery service usually starts at €127.
Conclusion
External disks are widely used when it comes to practicality, as you can use them to transport your data at any time.
For this reason, it is advisable to be prepared and seek specialized assistance in the event of this type of inconvenience.
Now, after this text, you know how to identify possible errors and even perform simple methods to recover your corrupted external disk without needing a qualified professional to do so and without losing any data.
If even after all your attempts you still can't solve your problem or if you need Data Recovery, Bot can help you.
You have two options: bring or send your device to one of our units, so that the technicians can analyze the problem and quote for data recovery.
All you have to do is fill in the form on the website and choose how the device will be delivered.
We work with two methods for receiving your device: free collection or delivery to one of Bot's reception areas.
Free collection
For customers in Portugal we offer the option of having your device collected at your address, via courier and express delivery, free of charge. When you fill in the form, simply opt for "Free Collection" and we will arrange for your device to be collected as soon as possible. The process is simple and free of charge, just pack the device well and wait for the courier at your address. Before the device is collected, identify the device with your form number and pack it in a box to avoid impacts.
Delivery to a reception
Bot is present in several cities across the country. You can check which one is closest to you at this link. After filling in the form, you can hand in your device directly to Bot.
Do you want to get a closer look at Bot's work? Take a look at our social networks: