The SD card is a popular extended storage space for Android smartphones with insufficient internal memory and for people who like to play games or take photos and videos.
However, the SD card not working is a common problem due to various reasons, such as improper use, incorrect handling, among others.
If your SD card is not working, some solutions can be tried to fix the problem – and you'll see some of them in this article.
In this article, we will also present the main causes that could be leading to the problem.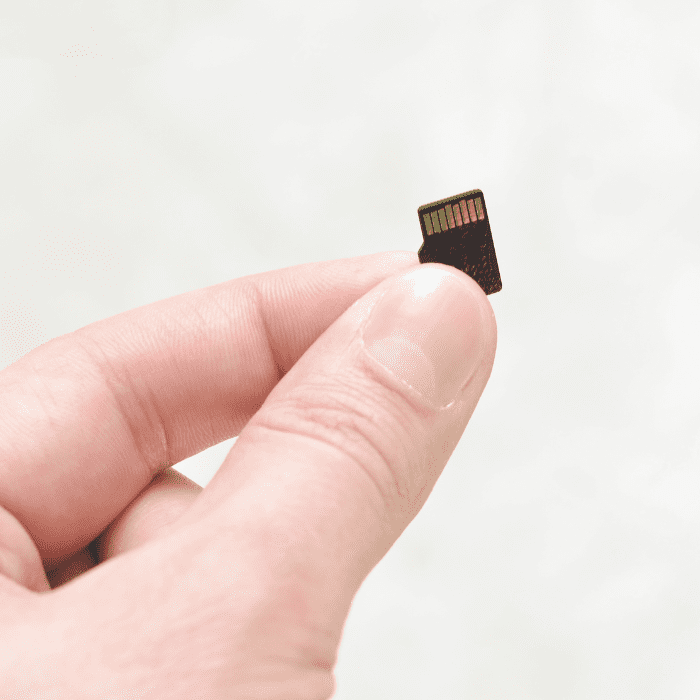 Why doesn't the SD card work?
Some of the main reasons why the SD card may not work are related to connectivity problems, hidden files, blockage and/or corruption of the drive.
SD card connectivity problem
SD cards communicate with compatible devices using a series of metal pads – with each pad serving a different purpose.
Over time, these pads can wear out and cause various connectivity problems, causing your SD card not to work.
The files on the SD card are hidden
Once malware has infected your device, it is able to hide your data so that it doesn't appear in File Explorer.
This can lead you to think that your SD card isn't working and that the files have been deleted, when in fact they have always been there, just out of sight.
The SD card is blocked
Full-size SD cards are equipped with a key on the left-hand side, which makes it possible to lock all stored files and prevent them from being deleted or modified.
Whenever you can access your SD card but can't format it or delete/modify its contents, make sure the key is in the "OFF" position.
Missing or deleted SD card data
When your SD card is not working, you may come across a drive with missing data.
The lack of data on the card may also indicate that you deleted files accidentally – or perhaps even intentionally, but may have regretted it later.
In general, official Windows tools help you recover accidentally deleted files.
The SD card has been corrupted
When your SD card is corrupted, it means that you can't access the files – and they may disappear, since the card can't be opened or recognized by your computer.
To see if your SD card is not working due to corruption, look out for the following signs:
Missing data: the moment you realize that some of your photos, videos, notes, spreadsheets or any other data are missing, it means that your SD card is on the verge of corruption
Card not recognized: the instant message that the SD card is not recognized means that it has corrupted data
Error messages: when you insert and try to access the SD card, and it gives you alerts such as "Access denied" or "SD card will not be formatted" it is also a sign that it is corrupted.
Inability to read and write: if you have problems reading or writing to an SD card, it may be corrupted.
Device malfunctions: a device with a corrupted SD card can cause the device to malfunction.
What to do when the SD card isn't working?
An SD card that doesn't work can make anyone despair. But don't worry: there are a few things you can do to fix the problem.
First, you can test your card on another PC or reader. If this doesn't work, other alternatives are: assigning a drive letter, using CHKDSK, updating the driver, removing the virus (if applicable) or recovering the data saved on the drive and formatting it.
Check out how to apply each of these solutions below:
Test your SD card on another PC or a new card reader
If the SD card works with your device (for example, you can view photos on the camera), but not on your computer, it is safe to assume that the PC's card reader is faulty.
So one of the first solutions you can turn to is to connect your camera, phone or other device to your computer using a USB cable with the SD card in the device.
Once connected, you can transfer the data from the device to the computer without using the SD card in your computer.
Go to the USB adapters check to start troubleshooting and find a more permanent solution.
Now, if the SD card doesn't work with your device ( for example, camera) and is not recognized by your computer, it may be defective.
Assign a drive letter to the SD card via Disk Manager
You can't access an SD card on a Windows PC unless it has a unique drive letter.
Although Windows should assign drive letters to storage devices automatically, things don't always go according to plan.
To manually assign a new drive letter to your SD card:
Press Windows+ X
Select "Disk Manager"
Right-click on the SD card reader and select the option "Change drive letter and path"
Choose a new drive letter and confirm.
Use CHKDSK to make the SD card detectable
CHKDSK is a useful command line tool that can automatically repair many file system errors to make a non-functioning SD card usable again.
The tool can be extremely complex for those unfamiliar with executing commands.
So, if you are not sure how to apply the method, send your SD card to a company specializing in data recovery to make it functional again, without losing your files and documents.
That said, follow the step-by-step instructions below to use this solution:
Press Windows+ X.
Select Windows PowerShell (as administrator)
Type the following command chkdsk X: /R (make sure you replace X with the letter assigned to your SD card) and press "Enter". The /R parameter tells CHKDSK to check the entire SD card for bad sectors and repair them if possible.
Wait for CHKDSK to finish. The process can take several hours, depending on the size and speed of your SD card.
Update the SD card driver
Some USB card readers may have drivers available on the manufacturer's website. Windows usually automatically detects and installs standard drivers.
But, some card readers may work better with drivers designed specifically for that device.
To reinstall the drivers:
Type "Device Manager" into the search on the taskbar and select "Device Manager"
Scroll through the available categories and look for your SD card ( it is usually under "Portable Devices")
Right-click on the SD card and select "Update driver".
Remove virus or malware
You can delete viruses and malware from your SD card that don't work using CMD. To do this, follow the steps below:
Connect the virus-infected SD card to your Windows system
Go to the "Start" menu, type "cmd" in the search bar, press "Enter"
You will find "Command Prompt" in the list of programs
Right-click on "Command Prompt" and select "Run as administrator". The CMD window will open
Now type the following command and press "Enter":
attrib -h -r -s /s /d drive letter:*.*
This will repair the virus-infected SD card. When the process is complete, you can check that your card is working properly.
But remember: this method is sometimes temporary. The problem may not be solved completely.
If this happens to you, send your SD card to a specialized professional to repair and recover the data on your drive.
Recover data and format the SD card for reuse
If you have a backup routine, simply format your card and then recover your data from your last backup.
Remember that formatting the SD card will delete all the data saved on the drive.
So don't use this method unless you really do have a recent backup of your documents and files.
If this is the case, you'd rather leave data recovery in the hands of a specialized company, such as Bot.
That said, follow the steps below to format your non-functioning SD card:
Connect the SD card to the computer via a card reader
Create a backup of the SD card on the computer
Right-click on the SD card drive and choose "Format"
Select the desired file system. You can leave the size of the drive as it is
Make sure that "Quick Format" is not checked
Click "Start" to format the SD card.
Conclusion
Have you tried all the solutions described so far in this article and been unsuccessful with any of them?
Then it's probably the right time to take your SD card to a data recovery company and let the professionals restore the drive and recover all the lost files.
But remember: when selecting a data recovery company, make sure it has:
Clean rooms and professional equipment: there are many companies offering data recovery services, but they don't have the right space or the necessary equipment. As a result, there is a risk that your drive will be damaged in the recovery process, worsening the situation rather than solving the problem.
Experience in the market: experienced companies with years of experience in the market offer greater security in the data recovery process because they have been doing it for a long time.
Positive reviews: always look at online reviews when selecting a data recovery company.
One data recovery company that meets these standards is Bot, which has highly qualified professionals working in a clean room, more than a decade of experience in data recovery and a 99% customer satisfaction rating.
Don't waste time: start your data recovery with us now and become one of our more than 100,000 success stories!