External disks are extremely useful items for users who use a large volume of files, especially to make backups more securely, since there are many people who don't trust cloud hosting.
However, using an external disk is not without its problems. Sometimes it can happen that the disk is plugged into the computer's USB and the operating system doesn't recognize it.
But what do you do in this situation? How do you resolve this issue without losing all your data? We will explain the details in this article. Have a good read!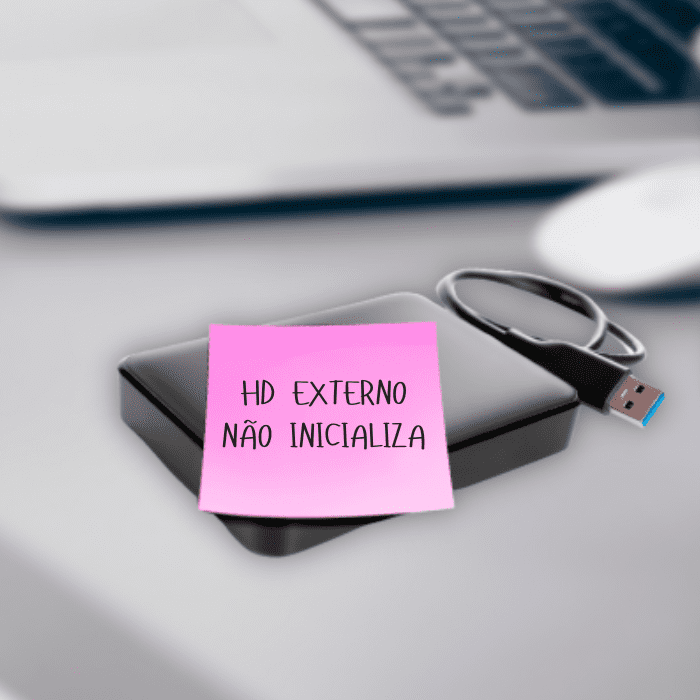 What does it mean to "initialize" a disk?
When you add a new disk to your computer, it may be hidden in File Explorer. In this case, it may be necessary to boot the disk, but this is only possible if the drive has not yet been formatted.
Booting a disk is nothing more than getting it ready to be used by the operating system, making it possible for it to be formatted later and made suitable for storing files.
However, although this is a relatively simple process, there is a significant downside in the case of disks that already have files on them: booting causes them all to be lost. In this case, you will need to take other measures to solve the problem.
Why does the "disk not initialized" error occur?
Generally speaking, a disk that won't initialize or that appears as unknown could be due to a number of factors, such as problems with partition loss, a virus attack, corruption in the computer's file system, or bad sectors.
How to fix an unbootable disk problem?
Regardless of the cause, there are some alternatives that can be used to find the hard disk fix efficiently, and they will be presented in detail below to help people who are experiencing this problem.
Restart your PC
The first step when the disk not booting problem is identified is to restart the PC. This is to ensure that it is not just a simple bug or message error, but that it is in fact a problem that requires more specific action.
If the computer turns on and the error persists, you need to try a few other ways to resolve the situation, since the first one wasn't effective.
Initialize the external disk on the PC
After checking that the problem is not a simple one, the next step is to initialize the hard drive. However, this option is only effective if the external hard disk has no important files on it, as there is a possibility that data will be lost.
Taking these points into account, this alternative may not be the most suitable, so you need to check other points.
Recreating the MBR
There is a special boot sector located at the beginning of the hard disk called the MRB, or Master Boot Record. The MRB can be corrupted and there are several reasons for this: accidental power failures, virus infections or incorrect operation.
In situations where the MBR is corrupted, the operating system will no longer have a reference for where to access the data, and this is when the external disk may fail to boot, which is why it is necessary to recreate the MBR in order to solve this problem.
To rebuild the MBR in Windows, you need to use the MiniTool Partition Wizard tool, which is a very popular partition and disk management software. There are several versions of this software, but to solve the problem in question, the free edition is sufficient.
If this alternative is not effective, there are other methods that should be tried in order to solve the problem.
Run CHKDSK to repair the disk and clean the drive
Another way to solve disk problems is to use the CHKDSK disk check shortcut. This shortcut scans the hard disk and checks for errors. If so, the fix is made.
While this shortcut is in use, it is not possible to run any other applications, which is why it should only be used when a few hours of inactivity are possible, since interrupting it could end up causing other errors.
Partition Recovery
In case the other ways of solving the problem aren't effective, there is also partition recovery, which should be used especially when the disk has unallocated space in the disk manager.
The software used to perform partition recovery is also MiniTool Partition Wizard, as it offers this feature, but for a price, which requires the Pro Ultimate Edition version.
Partition recovery can preserve the data on the external disk, but only if the new partition has not been created, so the guarantee is not complete.
How do I boot my hard disk without losing data?
In cases where the non-booting external disk contains important files that cannot be lost, the main solution is to recover the data before the disk is actually initialized. This can be done with the help of a specialized data recovery tool, or with the help of a data recovery professional.
If you choose to try to recover the data with software installed, you can see the best data recovery software here. In general, the program should be opened and the uninitialized disk selected. The chosen drive is then immediately scanned for the data it contains.
From there, you can preview and select which files you want to recover, and you can choose the location where they will be saved. In this process, we recommend that you have the necessary knowledge to carry out this task, so that you avoid losing your data.
Once you have recovered your data, you can start the boot process. To do this, you need to right-click on "My Computer" and select "Manage", which will run the disk manager.
A shortcut for this same function is to press the "Win" + "R" keys and type in the term "compmgmt.msc" so that the partition manager tool runs.
It will then search for the external disk connected to the computer. At this point, the unknown disk will be shown as "unallocated".
How can Bot help?
We realized that although it's a common problem, solving the issue of an external drive that won't boot is not simple and involves a lot of details, as well as compromising the storage of files that already exist.
To avoid counting on luck and ending up losing important items, or even not solving the problem at all. Relying on a company that specializes in these matters can help you!
Bot's professionals are highly qualified to solve these problems, in an agile, responsible manner and taking into account the privacy of your files.
With this in mind, if you want to solve a problem related to the external disk not initializing and data preservation, be sure to contact Bot, which is a consolidated and secure multinational with more than 100,000 success stories. Click here and start the process of recovering your data.